The 2022 three-star prospect is among three Midwest offensive line commits trying to persuade more players toward Bret Bielema's first full recruiting class.
By Matt Stevens/IlliniGuys Football Writer/Analyst
June 21, 2021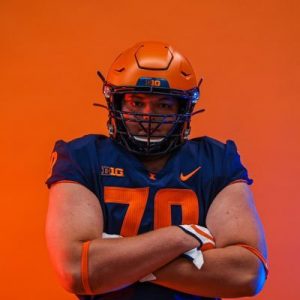 On the day Joey Okla gave his verbal commitment to Illinois in February, the three-star offensive lineman from Wisconsin was immediately given his first assignment from new Illini head coach Bret Bielema.
"They've already given me a list of players they've identified as who they want at Illinois in this class," Okla said back on Feb. 5 when he gave the Illini his verbal pledge. "I'm here to help and I've already started contacting some of these players via text and social media."
From that moment last winter, Okla, a 285-pound interior offensive lineman from Arrowhead High School in Hartland, Wis., has quickly become the unofficial player recruiter of the Illini's 2022 recruiting class, which will serve as Bielema's first full signing group as he continues the rebuild in Champaign.
"So, Joey will reach out to all the boys on the list the coaches give him from time to time and they'll respond once or twice," Okla's mother Connie said. "He understands enough not to pester them all the time about Illinois but with some of them he doesn't have to worry about anything. He'll play video games with them online and some of them are connected with a group chat chain where they talk about whatever."
Despite being a neighboring state, Wisconsin isn't a traditional football talent market for the Illini program as only 18 players from the Badger State have earned a letter in the history of the program. The last Illini player from Wisconsin to earn a letter was H-back Austin Roberts in 2018, who is now a medical student at the West Virginia University School of Medicine.
Bielema, who went 68–24 in seven seasons at Wisconsin from 2006-12 including three straight Big Ten Conference championships and a trio of Rose Bowl appearances, is hoping to start this Illini rebuild with offensive lineman that can lead a power running game similarly to what he's had in Madison and his five seasons at Arkansas.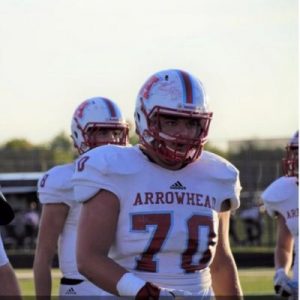 Okla got the first call from Bielema  just days after he was hired by Illinois and the scholarship offer came during what he called "an extremely emotional Zoom call" where Okla sat with his parents and listened to Bielema and Illini offensive line coach Bart Miller officially made the pitch.
"I'm happy to be an ambassador to the program who can build a bridge to more players from Wisconsin as Coach Bielema builds this thing up," Okla said. "The Zoom call where I got the offer left my whole family speechless. Eventually I turned to my parents and said Illinois is where I had to be."
The quick and consistent interest didn't necessarily surprise members of the Okla family. "It's funny because that weekend Coach Bielema was hired at Illinois, we were coming home from church and my husband turned to Joey and told him that he might want to prepare to get a call from the coaching staff at Illinois," Connie Okla said. "We got such a good feeling from Coach Bielema and Coach Miller that Joey didn't want to wait to commit. My husband was even like 'Do you want me to take you down to see the campus on our own and he said 'No dad, I know this is where I want to go' and we could tell he was relieved to finally have a decision."
Miller has made an immediate impact on this 2022 recruiting class by securing Okla, three-star offensive tackle Hunter Whitenack (6-foot-7, 290 pounds) from New Carlisle, Ind., and three-star offensive guard Clayton Leonard (6-foot-4, 265 pounds) from Danforth, Ill., in the first few months on the job.
All three of those lineman showed up together in Champaign in the first weekend of June for the first time Illinois was able to have prospects on campus for an official visit.
"As parents, we're all on a group chat now and we're talking constantly," Connie Okla said. "In fact, when we all got prepared on Saturday to leave from the official visit, Jennifer Whitenack (Hunter Whitenack's mother) came right up to me and said 'I feel like we're leaving a family reunion' and she was so right."
With the arrival of early enrollee Brody Wisecarver (6-foot-5 and 290-pound four-star prospect from Chesterfield, Mo.) this spring and 2021 signee Josh Kreutz (6-foot-2, 275-pound three-star center from Loyola Academy in Wilmette, Ill., who is the son of former All-Pro Chicago Bears offensive lineman Olin Kreutz), Illinois appears to have the building blocks for an impressive unit at the line-of-scrimmage for Miller to develop.
Miller was Bielema's offensive line coach at Wisconsin in 2012 where he coached first team All-Big Ten selections Travis Frederick (center) and Rick Wagner (left tackle), both of whom were consensus three-star prospects out of high school. Frederick eventually earned first team All-America honors from Pro Football Weekly and went on to be the first-round selection of the Dallas Cowboys in the 2013 NFL Draft. Wagner received Second Team All-America recognition from CBS Sports and was a fifth-round selection by the Baltimore Ravens in the 2013 draft.
As a graduate assistant in 2011 during his first stint with Bielema, Miller helped coach a Wisconsin team that ranked No. 11 in the country in rushing offense, averaging 235.57 rushing yards and worked directly with the offensive line and tight ends. Miller helped coach first-team All-Big Ten honorees Peter Konz (center), Josh Oglesby (tackle) and Kevin Zeitler (guard). Konz and Zeitler were First Team All-America selections by both the American Football Coaches Association (AFCA) and Pro Football Weekly. Zeitler was a first-round selection by the Cincinnati Bengals in the 2012 draft, and Konz was taken in the second round by the Atlanta Falcons in that draft.
"Bart was able to show early in his career how effective he is as a teacher and motivator of young men," Bielema said. "Bart has Midwest roots and will help us recruit and keep Illinois players at home wearing the orange and blue."