Connor Cagley, IlliniGuys Basketball Writer
November 2, 2021
In a week the Illini will be tipping off against Jackson State to begin the season. Across the country there will be freshmen that are trying their best to make an impact on college basketball. Here are the top five incoming freshmen basketball players that will successfully make big impacts on their programs in the 21-22 season.
5 – Emoni Bates
SF 6'9" 210 pounds
Bates was touted as the next Kevin Durant long before he ever hit the college scene. That may remain a tough bar to reach, but regardless he will still be a fantastic college player during the first of his required two years. So far, it's been reported that Emoni Bates will attempt to play point guard this year for Memphis. This isn't his natural position, but it should push him to be a better player in the long run.
Right now, he's streaky as a scorer and outside shooter so there will probably be some rough patches early in the season. However, he's made strides as a playmaker so by conference season he should be acclimated to ball handling duties within the offense. His areas of growth will need to be on the defensive end and on the glass. If he does show energy on the defensive end by forcing turnovers he can get his team into transition where they should flourish. Even if the point guard experiment fails, he should be able to transition back to his role as a wing scorer rather easily.
Bates was thought to be coming to the B1G conference. He originally committed to the Michigan State Spartans back in June of 2020. In April 2021, Bates reversed his field and decommitted from Michigan State and in August 2021, he committed to Memphis.
4 - Patrick Baldwin, Jr.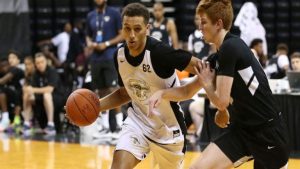 SF/PF 6'9", 220 pounds
Baldwin is the best long-term prospect of the wings in this entire class. While he might not have a following the way Emoni Bates did, he will potentially have just as much impact at the collegiate level. At 6'9", he can shoot over smaller defenders from deep with ease. This isn't just on set shots as he has already proved he can hit shots off the dribble to the point where he looks very comfortable out on the wing and the season hasn't started yet.
While he may not face the toughest competition as he plays for UW Milwaukee, he is playing for his dad which is a unique experience. His talent is undeniable and will show through to scouts at the NBA level. His two opportunities for improvement are his ability to create shots for others (and looking for those open teammates) and maintaining total focus on the defensive end of the court. One doesn't want to become a Carmello Anthony on that end of the court and when you have Baldwin's offensive capabilities some coaches may not force him to develop positive habits when he is defending.
As an aside, Baldwin was a great "dream option" for the Fighting Illini when fans were wishing his dad were to land one of the open assistant coaching positions. While this scenario appeared to never be in play, it certainly would've been fun to see Baldwin out there with Kofi and Curbelo at the same time. That would've been a fantastic amount of offensive firepower for that imaginary version of the Fighting Illini.
3 – Chet Holmgren
PF/C 7'0" 195 pounds
Holmgren comes in as what most seem to think is the potential number one draft pick in next year's draft. He doesn't have the strength of some other post players in this class, but he makes up for it with length, ball skills, and overall instincts for the game. He should be someone that challenges for the best shot blocker in all of college basketball and will form probably the toughest post duo alongside Drew Timme at Gonzaga. Offensively, he will provide elite value as a three-point shooting 5 man. He should excel in transition and in the half court. There are rarely big men that come into the game with his combination of build and skillset, giving him a unique position as a prospect. Some have gone as far as to call him a unicorn.
In a way, Chet might be considered to be the opposite of Kofi Cockburn. The long term questions around Chet revolve around his physicality, but his skill sets look to be NBA ready. Kofi is working to hone his skill sets for the long term but there is no question about his physicality.
2 – Jalen Duren
C 6'10" 235 pounds
Duren will be playing for Penny Hardaway's Memphis team after reclassifying from the 2022 class. He may not have to shoulder as high of an offensive load as his freshman partner, Emoni Bates (#4 on this list), giving him an opportunity to be more impactful through his defensive presence and effectiveness on the glass.
His astounding athleticism, combined with his frame, should make him a monster around the rim even if he lacks polish in his offensive skillset. It's unlikely he will take a ton of jumpers, but his form is fluid and it's an area where will need to gain confidence in order to pull his defenders out of the paint. Based on roster personnel he will play at the center position only, though he has shown the footspeed and ball handling to potentially develop into a power forward or center at the highest level.
1 – Paolo Banchero
PF/C 6'10" 250 pounds
Banchero is probably the most polished player coming in to college this year. His ability to play inside or out should make him one of the deadliest matchups in college basketball as a whole. Duke is also bringing back Mark Williams to start at the center position, and Banchero should be able to slot next to him or slide over and play small ball center when Williams is out.
His ability to pop within the pick and roll should pull a lot of defenders away from the lane and open up driving lanes for Duke's perimeter players. Defensively, he isn't the best shot blocker in the class, but he's no slouch in that department either. He should be one of the best rebounders in the four position in the entire country.