The Illini football team was back on the field in Memorial Stadium for the first time in the Bret Bielema era as they played their 2021 spring game in front of 7500 fans on Monday night. Here are our deep thoughts as we conclude spring football for the Illini.
Orange and Blue wasn't a good breakdown, it was more like 1's v 2's. The Orange team dominated the Blue, which is expected but it either means the Orange is really good, or the Blue has a long way to go. The lack of depth is concerning, but there are numerous players not participating this spring so perhaps that will help.
The Quarterback battle seems to be Brandon Peters job to lose. Isaiah Williams threw some nice balls, but this format and his group on the blue squad were definitely not conducive to any success. Williams is a running QB who uses his legs when plays break down, but in touch football it takes away that advantage. Peters looked good, throwing some nice balls, but there weren't many tight windows. Spann looked athletic, and Robinson didn't get much of a chance.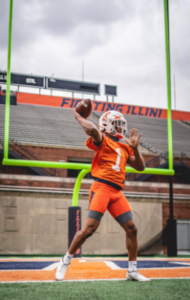 The Tight Ends may actually matter in this offense. Luke Ford and Daniel Barker are talented, and they are guys that can be difference makers if they are used properly. When you have a team that has limited depth and options at WR, it's important to have TE's that can make those catches that move the chains and even get downfield a bit.
Stand Up for Special Teams! The punters and kickers on this team are definitely an advantage for Illinois, and they even have depth. McCourt is a very good kicker, and Caleb Griffin nailed a 50 yarder during the shootout. Punting is also solid with Blake Hays. It's probably the one area with no question marks,
Line Play Wins - Bielema is going to really promote line play on both sides of the ball. The offensive line is a veteran group that did a nice job of opening holes. The defensive line was impressive, and it sure looks like Owen Carney is set for a big year off of the edge. Does Illinois have the OL and DL depth to withstand a 12 game season and stay healthy? That may be the big question mark.
Running Back is a Strength. Chase Brown is bigger and stronger and could be a breakout guy in this offense. He hit the holes hard and used some excellent cutback lanes to control the Orange offensive attack. Illinois is going to run the ball to set up the pass, so having a dominant back is very important. Reggie Love also ran hard and will provide some very good depth.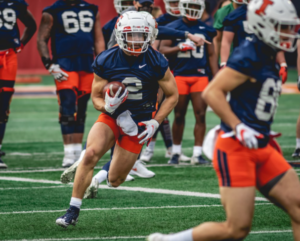 Is there enough star power at WR? It's still unclear who the go to Wide Receiver is going to be. Hightower, Thompson, Navarro and Sandy all had some bright spots and moments, but it was against a 3rd string secondary with numerous blown coverages. When you look at the QB position, how long is it before you move Williams there?
The Orange Defense looked good, or was the Blue offense bad? Maybe a bit of both. The LB's and DB's weren't really tested, and they are a big question mark at this point. So although it is clear they are improving, defensively this is the concern right now. Can they be solid behind the potentially strong DL? Does the 3-4 look fit the personnel? Still many questions to be answered this summer and fall.
Big Ten Tourney Champions! The Illini showed off their Big ten tourney championship banner for the basketball team. The players enjoyed the moment and the crowd gave them a nice ovation. Of course, even on the day of the spring football game basketball news may have still overshadowed it all.