By Steve Sturm/IlliniGuys Football Contributor
May 26, 2021
Illinois added running back and linebacker Luke Zardzin to the roster Tuesday in another savvy move.  Like "super senior" Alex Palczewski, Zardzin is from Prospect High School and he'll continue the pipeline from Prospect to the University of Illinois.  By the looks of their Twitter accounts, Palcho might even have been Zardzin's primary recruiter.
What does he bring to the Orange and Blue?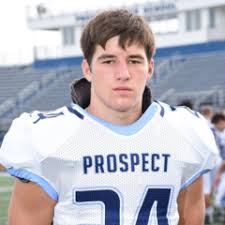 Zardzin put up big numbers for Prospect in their abbreviated spring season, totaling 1,063 yards and 18 touchdowns.  However, as I look at his film, I have a hard time seeing a route to success in the Big Ten for him as a running back.
https://www.hudl.com/video/3/9711572/6065d05802b18916447c3bfb
Zardzin is not blessed with the speed or burst that you'll normally see in a high major running back.  He also runs straight up, which leaves a big target for tacklers and leads to fumbling.  That also makes Zardzin a poor fit as a short yardage back even though he shows good power.  Prospect plays a strong schedule, but I don't see much chance that Big Ten tacklers will bounce off Zardzin in the same way as high school tacklers.
Zardzin does a nice job finding space and I really like his hands and body control though.   He also has the type of frame which would allow him to grow from his current size of 6'2, 220 to 240 pounds or so, which means...I see him as a tight end.  Maybe its because Illinois has been adding tight ends like mad, but that's how I see Zardzin too.  Illinois figures to run a lot of two tight end sets and will use a shorter h-back type of tight end as well as a classic large framed tight end as well.  There are no clips of Zardzin blocking, but assuming he can, I think he'll be a good fit as the H-back type of role that Max Rosenthal will fill in the fall.
There are also clips of Zardzin as an outside linebacker and I think he has a path to success there as well.  In these clips Zardzin is playing well off the ball in the sort of role CJ Hart was filling in the spring game.  It doesn't appear that Zardzin made many plays as a defender for Prospect, but I could see him playing well as an outside linebacker in Illinois' new 3-4 scheme.  There are no clips of Zardzin taking on blockers or filling inside gaps, but if he can do that I think he'd be a fit as an inside linebacker too because he might have a hard time in coverage.  Zardzin's going to be a project in any role, but the good news is there's really something to work with here because this is a young man with good functional strength and agility.
How does he fit in?
That all depends on what position Zardzin will play, of course.  In spite of the many additions that Illinois has made at the tight end position, Zardzin will have a path to playing time there as soon as 2022.  He's similar to 2022 commit Jordan Anderson in size, but if Anderson isn't a running back (which remains to be seen) then there are no running backs with Zardzin's measurables on the roster and Zardzin wouldn't be a very good fit.  On the defensive side, Illinois has been adding to its linebacker room almost as quickly as it has been adding to the tight end room, so Zardzin has a path to playing time there as well.
I don't rate walk-ons on the 10-point excitement scale because Illinois fans should always be thrilled to add any quality walk-on to the roster.  However, I have to say that Zardzin is better than most.  He was only a walk-on candidate at Northern Illinois as well, but that commitment came before he had such a strong senior season.  I mentioned in my first podcast with IlliniGuy Mike back in February that Illinois was going to be a great position to add local walk-ons this spring and Zardzin is just the type of guy I was thinking of.  Like a few other guys that I've written about recently, he would probably have had some low major scholarship offers if other schools had been able to see him before signing day.  However, Illinois is in a great position to snap him up since a walk on opportunity at Illinois is much more enticing for an in-state kid than a walk-on opportunity at other schools.