By Steve Sturm/IlliniGuys Football Contributor
May 18, 2021
Illinois has added 3-star running back/H-back Jordan Anderson to the fold.  He's an interesting pick up because of his power and versatility, and he also continues coach Bielema's in-state recruiting redemption tour.
What does he bring to the Orange and Blue?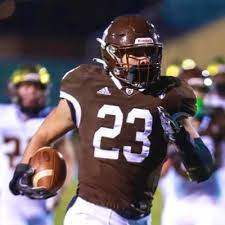 Anderson is a large and powerful running back.  At 6'3, 230, he's uniquely tall for a running back, which can be a disadvantage because it provides a bigger target for tacklers and forces runners to carry the ball at a height where its more likely to be knocked out by a tackler's helmet.  There are very few 6'3 running backs in the NFL and not all that many in major college football either because running back might be the one position where height is a disadvantage.  Many will point to Derrick Henry as an example, but he's a rare breed today.
Not only that, but if you look at this film, you'll see that Anderson likes to run standing straight up.  He'll lower his pad level when he needs to drive through a defender, but in these clips his helmet is always the highest on the entire field.  He has really quick feet and takes choppy steps which allow him to change direction easily, so its easy to see why he's gotten a fair amount of high major attention.  Joliet Catholic plays a strong schedule, yet it doesn't appear that Anderson is even challenged in these clips.
http://www.hudl.com/v/2FPHij
However, he's a tough projection as a running back.  It could work out there, but take a look at the highlights of Anderson as a receiver.  That out route and one handed control and completion at 3:02 is very impressive, and among other things that leads me to believe that Anderson may well be a future H back or pure tight end.  He's nearly the same size as classmate Owen Anderson and has similar speed and change of direction skills.  Owen Anderson has tremendous body control and hands, which is why I'm so high on him.  However, this film shows that Jordan Anderson is no slouch in that area.  There are no clips of Jordan Anderson blocking, but with the strength he demonstrates in these running clips, I find it hard to believe that he could be too bad in that area (though I should point out that Derrick Henry is a terrible blocker despite his incredible strength).
How does he fit in?
Obviously, that depends a bit on what position Anderson is going to play.  If he's a running back, Anderson will come to Champaign in the fall of 2022 behind a full stable of upperclassmen at running back.  Chase Brown, Chase Hayden and Reggie Love will surely be among the feature backs in 2022 and potentially Mike Epstein, Jakari Norwood, and Kyron Cumby will still be around as well.  Joshua McCray will be a redshirt freshman at that point and he carries a similar skillset to Anderson.
If Jordan Anderson is a tight end, he will be behind seniors Ford and Barker and will be competing with Griffin Moore and Tip Reiman as well as classmates Owen Anderson and Henry Boyer as well.  Max Rosenthal will also likely line up as an H-Back and knock out some defenders' dental work with his blocking.  Given that Illinois apparently intends to use two tight ends frequently, its clear that Anderson will have an easier path to playing time as a tight end/ h back.
As far as the 10 point excitement scale, I'm pretty high on Anderson.  He didn't get many high major offers, but I believe that is in large part due to his uncertain fit in college.  However, Illinois might just have a fit for him at two different positions, and I believe he has real potential at both places.  I'm giving Jordan Anderson a 6.