By Steve Sturm/IlliniGuys Football Contributor
Does anyone else remember Frank Hartley?  Anyone?  That's the last Illini tight end that could block like Henry Boyer. Hartley played quite a bit at Illinois but caught only 20 balls  in his career.  However, despite being undrafted, he played five years in the NFL, starting 37 games, because he could really move defenders from the tight end position.  Hartley was much more like new Illini Max Rosenthal in frame and role, but his name immediately popped into my head when I saw Henry Boyer's highlights for the first time.
What does he bring to the Orange and Blue?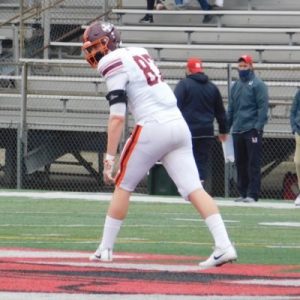 Blocking.  Blocking.  And more blocking.  Let me explain what I mean by that.  You see, Boyer is athletic and powerful enough that he can execute several several kinds of blocks.  He can move defenders off the line of scrimmage like a true lineman.  He can pull out and lead runners on outside runs.  And, he can execute combo and reach blocks with other linemen.  Those are the plays where he holds up the man on his face, often just with one shoulder, and then leaves that man when the offensive tackle takes over and Boyer then reaches up to the second level defender and engulfs him.  That's a classic NFL blocking scheme to seal the edge on an off-tackle running play and Boyer executes it like a pro.  There are a couple of clips of Boyer receiving and he does appear to have the hands to be a receiving threat, but he's not the type of quick or limber athlete that is going to be a receiver primarily.  I'm sure Illini quarterbacks will be happy to have a large target like him as an option, but I doubt he's going to be the primary option on passing plays very often.
http://www.hudl.com/v/2FLVwE
Long time Big Ten fans, especially those who have followed Wisconsin, probably paid close attention to some of the last clips on that video, where Boyer takes on a defensive end and pass blocks like he's a natural tackle.  The reason is that Wisconsin has taken several natural tight ends with Boyer's size and bulked them up until they were tackles.  Boyer could that type of player.  He's listed at 6'7, 250 pounds right now, and he was listed at 215 pounds going into his prior year at Walter Payton Academy, moving up to 235 pounds going into this Spring season at Brother Rice.  He's a muscular young man at this point, which explains why he is able to thoroughly beat good competition at Brother Rice.  However, I think its possible that he adds even more weight and plays tackle in the Big Ten.  His HUDL video from Walter Payton Prep includes a lot of reps at defensive end, where his size would also be a good fit.
Where does he fit in?
This brings its own sub-story, because Boyer is a tight end who is unlike anyone else the new staff has brought to Champaign.  While Max Rosenthal is already board as a player who is primarily a blocker and will play some H back as well as fullback, the staff has brought in several tight ends and potential tight ends who are smaller, quicker, and built more to receive more than block.  If you watched the Spring game, Illinois lined up most often in a two tight end set which was very similar to Tony Petersen's offense at Appalachian State. The Mountaineers often lined up with an H back and a tight end at the same time and I'm thinking that Illinois' decision to stack several tight end types together so far indicates that Illinois intends to do the same.  Not only that, but the addition of two maulers like Rosenthal and Boyer together with more skilled players like Owen and Jordan Anderson indicates to me that there are going to be two distinct roles for Illinois' tight ends.  So, when it comes to depth chart going forward, you almost have to put the tight ends in two columns. In the fall of 2022, Illinois will be blessed with several excellent upperclassmen in Rosenthal, Luke Ford and Daniel Barker.  After a likely red shirt year for all of the new players, Boyer will be in the mix for playing time with Owen and Jordan Anderson, Griffin Moore and Tip Reiman if the staff decides to keep Boyer at tight end.  This was a position of need for Illinois starting in 2023 but the staff has now made it a position of strength.
As far as the 10 point excitement scale, Boyer is going to be fairly low purely because of the role he fills.  I love blockers more than most fans and I appreciate Boyer's ability in that area.  However, though he's a low three star type of player, Boyer has no other high major offers or interest, and there's good reason for that.  You see, non-linemen blockers are often walk-ons.  Tip Reiman is still a walk-on and Max Rosenthal was originally a walk-on at Michigan State.  Even if a blocking tight end is truly excellent at his job like Rosenthal or a Frank Hartley, teams don't usually devote a lot of resources to them.  So, even though I'm not down on him at all, I'm giving Boyer a 4 on the 10 point excitement scale.