By Kedric Prince – IlliniGuys.com Director of Recruiting
April 30, 2021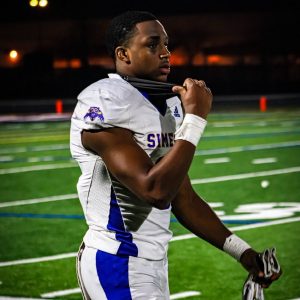 To say the Fighting Illini football staff is hot on the recruiting trail would be an understatement right now, receiving two commitments just hours apart on Thursday from Brother Rice TE Henry Boyer and Joliet Catholic RB Jordan Anderson. When head coach Bret Bielema said he would show Illinois high school players love, he meant it.
On Thursday, Illinois offered 2023 Chicago Simeon high school wide-out Malik Elzy a scholarship. When the news broke, some were expecting a same-day commitment from the Simeon Wolverine.
It is not just the Illinois coaches; it is a group of players reaching out throughout the state, telling others to join them. Stay home; we are going to make Illinois a powerhouse.
Elzy is a 6-foot-1, 185-pound wide receiver from Chicago with only five offers, but they are big-time: Illinois, Kentucky, Michigan State, Michigan, and Wisconsin with offers from  Michigan State, Wisconsin and Illinois coming this week.  Michigan had offered in January 2020 when Elzy was a freshman.
Offers are rolling in following a great - albeit shortened - season for Elzy and Simeon.  He caught 4 touchdowns for over 500 yards in 3 games.  He also played safety for the Simeon Wolverines, causing 1 forced fumble and recording multiple solo tackles.
"It feels great to be recognized by my home state school. I'm glad they see me as a player who can help them win some games in the future," Elzy said.
Illinois under the Lovie Smith regime did not offer Elzy who has been thought to be a Michigan lean.  But, the new staff has done its best to convince this athlete to take a hard look at Illinois and join the in-state movement.
Elzy states that he has no hard feelings toward the previous staff; they obviously had a group of players they wanted and he could not fault them for that.
Now the Illinois staff will make every effort to find high-quality players to help them win games and create a culture that makes it okay to stay home and win championships.
"It's noticeable that Illinois is recruiting more big-time players from our state and top 20 caliber talent; recruiting-wise I must say I'm impressed," Elzy said.
Thursday's offer came from assistant coaches George McDonald and Nate McNeal and it did not come as a surprise. Elzy could tell the Illinois interest level had picked up.
It is not certain that Elzy will play receiver, but they have mentioned safety as an option.
Without leaking a favorite, Illinois is attractive to him.
"If I committed to Illinois, my goal would be to win as many championships as possible for my home state school. This is very important to me because I know I can make an impact. By the time I leave Illinois, we will have plenty of championship rings," Elzy said.
Please follow me on Twitter @KedPrince4.
PrinceKedric@yahoo.com
(Feature photo courtesy of Prep Redzone)