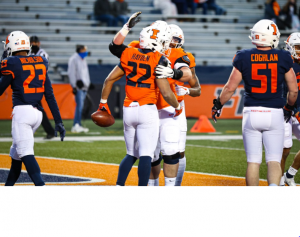 By Gavin Good/IlliniGuys Football Contributor
April 25, 2021
Chase Hayden hit the ground running when he arrived at Arkansas to play for Bret Bielema in 2017.
The four-star recruit out of Memphis was leading all of the Razorbacks' tailbacks in yardage, with 249 yards and three touchdowns through seven games.
Then, Hayden broke a bone in his leg, forcing him out for the rest of the season. Arkansas stumbled to a 4-8 finish, and Bielema was quickly shown the door.
Four years later, Hayden and Bielema have had an unlikely reunion in Champaign. Both had stops along the way, with Bielema taking assistant coaching jobs in the NFL with the New England Patriots and New York Giants, while Hayden transferred to East Carolina ahead of the 2020 season.
Now a fifth-year junior, a reality made possible because of pandemic eligibility rule changes and Hayden's decision to opt out last fall, Hayden is looking like a solid fit for the Illini.
"I definitely feel settled," Hayden said. "Everybody on the team, they kind of welcomed me in with open arms and made the process a lot easier."
A soft-spoken, quieter presence, Hayden is a welcome addition to a talented Illini backfield that is already returning proven Big Ten back Chase Brown, an up-and-coming playmaker in Reggie Love and possibly Mike Epstein, who has been fantastic at Illinois when healthy.
It was a no-brainer for Bielema to go after his fellow former Razorback once he got things up and running in Champaign over the winter.
Hayden bought what his old coach was selling, becoming the second transfer to commit to Bielema and the Illini back in January.
"Chase is the only guy on the team I've recruited twice," Bielema said. "I would say he's a consistent back, he has been a guy that has impressed me from obviously back in the high school days. Plays with a good pad level, understands and sees where he's going."
Certainly, Hayden will have to compete for his carries, but Bielema and new offensive coordinator Tony Petersen have traditionally favored a backfield-by-committee approach.
There should be plenty of chances for to make his mark this fall, and he's already begun the process this spring.
"I really thought he'd be a good addition for us here, and he's kind of turned into that," Bielema said. "I think the rotation of (Brown, Hayden and Love) and also Jakari (Norwood) as well, and then we have some incoming players that can bring that added depth."
Hayden was one of a handful of Illini to stand out in Monday's spring game, rushing for 52 yards and a touchdown on seven carries. He finished with fewer yards and fewer carries than Brown (10 carries for 82 yards and two touchdowns) and Love (63 yards and a touchdown on nine carries), but still managed to light up the second and third-string defense.
Late in the first quarter, the offensive line opened up a nice hole to Hayden's left, and he surged through, caught a nice block from Carlos Sandy and accelerated through the second level of the defense to score from 27 yards out.
It was just a flash, but Hayden showed the decisiveness, burst and agility that anybody can use.
His teammates noticed, too.
Brown, who looks likely to get a plurality of the carries in 2021, was impressed with his performance, noting that Hayden will make a powerful addition to an already-talented backfield.
"I know how good we are," Brown said on Monday. "Tonight was just another night to show that we can do. I'm excited that everybody played really well. I mean, Chase had a really good, I think, a 30-yard touchdown, made somebody miss. It just gets me pumped up for what's coming in the fall and the work that we're doing in the summer. It's something to build on, and we can only get better from here."
For Hayden, another chance to come to another Power Five school and be a contributor was a golden opportunity.
"That's big because it means everybody is going to be able to contribute," Hayden said. There are going to be a lot of opportunities for everybody, so you just have to take advantage of the opportunities."
"When I played for Coach Bielema my freshman year, we played three running backs and we all got a lot of carries," he said. "So I knew it was going to be a big emphasis on running the ball and using a lot of guys."
Hayden was fantastic in that freshman campaign under Bielema, but struggled to make a similar impact after, falling down the depth chart a few pegs at Arkansas in 2018 and 2019 under second-year coach Chad Morris. After he sustained a concussion in week four loss to San Jose State in 2019, he redshirted with the NCAA's then-new rule, which allows players to redshirt if they have appeared in four or fewer games.
The Razorbacks ended up going 2-10, Morris was promptly fired and Hayden hit the road, electing to transfer to East Carolina for the 2020 season. He left Arkansas with 539 rushing yards, four touchdowns and 16 receptions for 96 yards after three seasons.
But things didn't quite go as planned there, either, due to playing time and the pandemic. Hayden started as the Pirates' No. 2 running back, rushing for 62 yards on 16 carries, while making one catch for 31 yards. Hayden was relegated to special teams duty in week three after arriving with big expectations, and not long after, he decided to opt out.
But so far with the Illini, things are going well for Hayden. Familiarity helps, and he's hit it off well with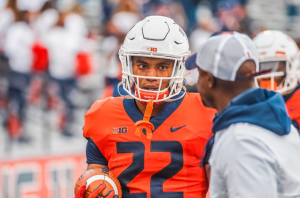 Cory Patterson, one of the only assistants Bielema retained from the Lovie Smith era.
"It was pretty good, just being familiar with Coach B and playing for him before, there's a familiarity there," Hayden said. "Coach Patterson's really good too. He's real big on teaching stuff and making sure you get the details and everything. He's not really a yeller or someone who is going to scream at you, it's kind of more calm, cool and collected."
Sure, the central Illinois weather is a bit nastier than Hayden is used to.
There's also the confusing, if relatively minor coincidence that he and Brown share the same first name.
But those are just wrinkles, Hayden said, not troubling developments.
"I'm sure we'll have to figure that out because it does kind of get confusing," Hayden said. "A lot of the times, Coach (Patterson) just points at one of us, but with our name it can get kind of confusing."
His teammates and coaches like him, though they are trying to get Hayden to open up a bit more, Brown pointed out.
"He's a quiet guy," Brown said. "He's funny though. As he gets more comfortable, he starts talking more. He's pretty to himself, but we love him, he's like a brother to all of us. When we're in the RB room, completely different guy, he's opening up."
The Illini are even now recruiting Hayden's younger brother and four-star recruit, Dallan, who is rated as the No. 4 all-purpose back and No. 188 overall prospect by 247Sports.
Whether that pans out — and Illinois has tons of high-profile competition there — or not, Hayden is off to a smooth start at his third school. He's now in the process of earning a master's degree, enrolling in the strategic brand management graduate program, and is quickly adjusting to his new environment.
And Hayden knows all about the mindset needed in order to succeed in the Illini attack.
"We definitely have to be tough, hardworking," Hayden said. "You're going to have to get the hard yards. Because it's a run-heavy offense, people are going to try and stop the run, kind of like a hard-hat mentality."