By Brad Sturdy - IlliniGuys Insider
October 14, 2021
(Adrame Diongue on cover; photo courtesy Max Preps)
The Illini have landed two extremely talented guards in the class of 2022 and, despite the fact that they have missed on a few wings and big men, they are still in the market to add to their fall recruiting class. Here's a look at the possibilities.
Sencire Harris - The first to commit to the Illini, the 6'4 combo guard is a dynamic scorer and creator who will play early for the Illini.
Jayden Epps - Another combo guard, Epps is a tremendous shooter and scorer that has added to his ability as a creator for others over the past year. At 6'1, Epps can play either guard position.
Ty Rodgers - The 6'7 Rodgers is a tremendous defender and would be a perfect complement to the two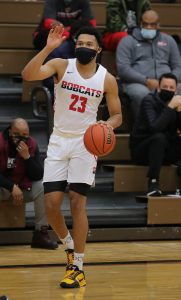 guards they have added in 2022. Rodgers can play the 3 or play a small ball 4 and should have the athleticism and physicality to play early on. He has taken trips to Illinois and Michigan State and will visit Memphis this weekend (10/15). He has a planned trip to Alabama at the end of the month but it seems like that trip may not happen. Illinois is perceived to be the leader and just transferred with his move to the state of Illinois.
KeShawn Hall - The 6'7 255 pound Center is a point Center that is a little thick and will need to get conditioned better, but he has tremendous skills. Illini assistant Chester Frazier likes him a lot after seeing him workout this fall. He is from Cleveland, but playing at the Skill Factory in Atlanta. A reclassification from 2021, Hall has offers from Illinois, Bowling Green, East Carolina, Tulsa, Kent State, Miami (Ohio) and Illinois State, among others.
Adrame Diongue - The 6'11 big man is perhaps the most intriguing player left on the board. He is a bouncy and athletic big man that is skilled, but will need to get stronger. Unlike some other big man targets they have dropped pursuit of, Diongue possesses the motor that Brad Underwood craves. Kansas, Washington State and Mississippi State join Illinois as high majors to offer this talented big man who is playing at Compass Prep. Diongue would like to visit Illinois this winter.
Currently the Illini have 2 available scholarships in 2022, and with those filled it means anyone else they add would mean that someone is transferring or turning pro. If they can't add the proper fall signees, expect them to look at the transfer portal should they have openings.