Illinois Governor J.B. Pritzker joined 10 other states already with signed NIL legislation set to go into effect on July 1 after NCAA stalls on issue.
By Matt Stevens - IlliniGuys Football Writer/Analysts
June 29, 2021
CHAMPAIGN, Ill. -- The universities in the state of Illinois are guaranteed to not lag beyond several other states in giving athletes the opportunity to profit off their name, image and likeness while in school.
Following a ceremony at the State Farm Center, Illinois Governor J.B. Pritzker signed the Student-Athlete Endorsement Rights Act into law on Tuesday afternoon after the bill was passed on a vote of 95-18 by the Illinois State Senate one month ago. The bill goes into effect less than two days before legislation in other states is set to go into effect.
"Beginning July 1st, Illinois collegiate athletes no matter the sport and no matter the division will be able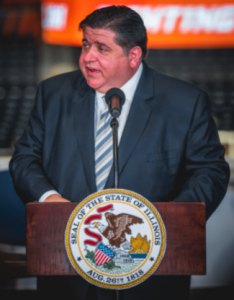 to take control of their own destiny when it comes to their name, image, likeness and voice," Pritzker said. "More and more people, including the Supreme Court, are recognizing the hundreds of hours that student-athletes pour into games, practice, weightlifting and nutrition. And they've never properly been recognized."
The bill was sponsored by 11 members of the Illinois House of Representatives including former Illinois football player Kambium Buckner and eight Illinois State Senators including former Northwestern football player and NFL veteran Napoleon Harris. Both Buckner and Harris were present at State Farm Center to see the bill officially become law.
The bill makes Illinois the 11th state, joining Alabama, Florida, Georgia, Mississippi, New Mexico, Texas, Kentucky and Ohio, to have its governor sign a version of NIL legislation into law and have it go into effect on July 1.
"As a former college athlete, I, like Senator Harris, have a unique perspective on how this could benefit and protect something for our young student-athletes," Buckner said. "This is a positive step for our communities. Not only is it necessary but it's something we've been discussing for several years now. It is long past due and we finally got it done."
As of Thursday, any Illinois collegiate athlete will be able to negotiate a deal for a business to be able to use their name, image or likeness in advertising. This includes commercials, autograph sessions, media rights deals and social media influencing.
"I'm a business man now obviously with this bill passing," said Illinois senior guard Trent Frazier, who attended the bill signing ceremony inside his home playing arena. "I've been working for two weeks prior (in getting ready for this NIL bill) and I'm going to take full advantage of this opportunity and use it. Obviously with this being my last year (of college basketball), I want to ba able to take the most I can out of it."
Northwestern's newly hired athletics director Derrick Gragg, who will begin his new job in Evanston on July 1, and DePaul athletics director DeWayne Peevy, who was hired last August, was at the bill signing as a show of statewide collegiate support.
The University of Illinois is specifically encouraging its athletes to use Opendorse Ready, an online application to help influence their brands and platforms through the current name, image, and likeness laws. Currently more than 30,000 athletes around the world use the sports technology company to build their personal brands by publishing social media content from partners including over 100 college athletics programs, dozens of professional teams, the PGA TOUR, NHL, NFLPA, NBPA, and hundreds of sponsors.
"We are embarking on a new frontier for our student-athletes, where they gain complete control over use of their own likeness for commercial purposes," Illinois athletics director Josh Whitman said. "Opendorse will allow us to facilitate greater education and training for our student-athletes, while also providing a user-friendly platform to navigate the nuances of building a brand, learning business practices, and improving financial literacy."
Once California Governor Gavin Newsome signed into law their state's Fair Pay to Play Act in 2019, Whitman and hundreds of other athletics administrators across the country were hopeful the NCAA would provide broad legislation by July 1 for an equal playing field for schools to recruit and retain athletes in all 50 states. However, NCAA leadership, headed up by president Mark Emmert, simply ran out of time while hoping the United States Congress would provide a federal bill they could incorporate into their own bylaws and it was clear individual states would be forced to govern this issue themselves.
"It has always been our preference to have nationwide athletics NIL legislation that we can all govern under as an NCAA Division I institution and as far back as two years ago, we wanted to give those in power, whether it be the NCAA or the federal government, all the runway to do that," Whitman said. "When it became more than obvious that July 1 was going to come around without such legislation, it became critical that we in the state of Illinois and the University of Illinois act in the best interest of our student-athletes."
Illinois senior offensive tackle Vederian Lowe, who was present at the bill signing Tuesday and is likely a prospect projected in the first few rounds of the 2022 NFL Draft, said this bill shouldn't have been necessary but represented an exciting opportunity for all college athletes.
"Athletes throughout several decades have probably had the same conversations that my teammates and I have had in dorm rooms, meeting rooms and apartments near a college campus all over the nation," Lowe said. "Honestly, I really think if more politicians either in states or nationally had been college athletes, they'd realize this issue never needed to be complicated. It's not that difficult and we're all college-educated young men and women. I think we'll be able to figure out how to market our value relatively well."
Currently, Illinois is now among three states in the Big Ten Conference footprint to have NIL legislation signed into law making Ohio State, Illinois, Northwestern and Nebraska at the forefront of the conference in allowing its athletes to profit off its name, image and likeness in whatever form their state's bill is written. In Illinois, the only endorsement that is prohibitive under the bill include "the promotion of gambling, sports betting, controlled substances, cannabis, a tobacco or alcohol company brand, or products, alternative or electronic nicotine product or delivery system, performance-enhancing supplements, adult entertainment, or any other product or service that is reasonably considered to be inconsistent with the values or mission of a postsecondary educational institution or that negatively impacts or reflects adversely on a postsecondary educational institution or its athletic programs, including, but not limited to, bringing about public disrepute,embarrassment, scandal, ridicule, or otherwise negatively impacting the reputation or the moral or ethical standards of the postsecondary educational institution". Therefore, the state of Illinois lottery advertisements that currently use former Illinois All-American basketball player and 2021 NBA Draft prospect Ayo Dosunmu would still be prohibited in this state.