Illinois outside linebacker Owen Carney needed to be sold on Bret Bielema's future for him and sometimes that even involved the Illini saying things Carney didn't want to hear.
By Matt Stevens - IlliniGuys Football Writer/Analyst
July 22, 2021
INDIANAPOLIS -- The thing that typically scares off players is exactly what brought Owen Carney Jr. back to Illinois for the 2021 season.
The fear of a coaching change instantly turning him into a different kind of football player became exactly what the Illini fifth-year senior needed and wanted to hear at the same time.
Carney was recruited specifically to play in Lovie Smith's four-man front Cover-2 defense and when his head coach was fired 12 days before Christmas, the 265-pound pass rusher felt he had no choice but to enter the transfer portal. Carney saw his future as having one more year to put up numbers before entering the professional draft process. The emergence of new Illini head coach Bret Bielema in Champaign and his odd-man front 3-4 defense philosophy was going to mean either one of two things: either Carney's skill set would not be wanted or appreciated in the Illini program, or Carney would be asked to adapt his skills and body type to the new world surrounding Illinois football.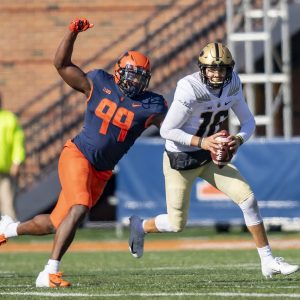 "Right after he put his name in the transfer portal, I was talking to (Illinois executive director of personnel and recruiting) Pat Embleton and asking 'is this a guy we want back?' and Pat said 'Coach if you can get O.C. back on this team, it'll be a major step in the right direction. So, I started putting together a film package of how I saw him and what we could do for him in just one year to help his development."
Carney had interest from several Power Five programs including Florida State, Penn State and Wake Forest, but Illinois made the most consistent push to bring the All-Big Ten selection back to Champaign for one more season. Carney said he spent an hour on the phone each day with new head coach Bret Bielema and running backs coach Cory Patterson during the recruiting process while he was in the transfer portal. The discussions between the new Illini head coach and Carney actually "got a little heated" according to Bielema when he was trying to convince Carney that he just finished a season with the New York Giants coaching professional pass rushers of his body type of skill set.
"It got to one point in the back and forth where Owen's uncle was sitting there and said to me 'You can be good cop every now and again, coach. It's okay to be the good cop'."
He has appeared in 43 games at Illinois, totaling 70 tackles, 13.5 tackles for loss and 9.5 sacks. Carney recorded a career-high three sacks in a loss at Purdue last season, which is tied for the seventh-most in a single game in program history.
"I like to think I'm a student of the game and I see myself as a hybrid defensive end and outside linebacker in certain schemes so the idea of adapting to a new position wasn't my fear," Carney said. "The transition has been smoother than you'd think because I think they're basically the same kind of deal anyway."
Carney, who was named to the All-Big Ten Second Team last season by the coaches and the media, said Thursday at Big Ten Media Days in Indianapolis that he was looking for a coach to be honest with him about how he saw him as a potential talent in the National Football League.
"As I've gotten older, the idea of being real with me has gotten more and more important to me and that's the one thing I could always tell with (Bielema) was he was real with me from day one," Carney said. "Even when it was something I didn't want to hear."