Mike Cagley, IlliniGuys
September 26, 2021
The frustration of Illini fans continues to build as the team lost another close game - this time on the road at Purdue. The Illini went through yet another first quarter scoring drought, a challenging first half of unimaginative play calling, and an excellent defensive effort overall that was marred by a late game collapse.
The two rays of light for Illini fans looking for anything positive to latch on to were the breakout game of fearsome running back Josh McCray and the overall solid play of the defense. Both are huge surprises, as McCray is a freshman that most colleges saw as a linebacker and the Illini defense was expected to be less effective than the struggling Illini offense.
Hail Mary #1 - Frustration in the lack of "Moneyball" decision making
After back-to-back close losses that revolved around controversial fourth down play decisions, fans are restless. These decisions were the catalysts for the excruciating fourth quarter heroics of the Maryland and Purdue offenses. The Illini were left with losses when wins were high mathematical probabilities. As a result, the Illini late game struggles have fans wrestling with Coach Bielema's decision making processes and his in-game coaching decisions.
Models such as Ben Baldwin's Fourth Down Model cited a 9% greater chance of winning by going for the first down rather than punting the ball (78% vs 69%). For two weeks in a row, Coach Bielema chose to go "against the odds" outlined statistically and chose instead to make this decision based on his "gut feel" - and the Illini have lost the lead only to lose the game.
Sports decisions made by "the numbers" have resulted in the three point shot dominating basketball and the Moneyball decisions of Billy Beane allowing small market teams with lower budgets to successfully compete with larger, more well-funded teams by focusing on key statistics such as lower paid players with higher on base percentages. These statistics have been available for years, but Beane was the first person to run his business based upon the insights he drew out of the data. Fans want that type of innovation from the Illini coaching staff.
For some fans, the decision to go against the data is concerning - especially two games in a row with both games having bad outcomes. To make matters worse in the minds of such fans, Coach Bielema mentioned that "I would do it 100 times over" in describing tonight's decision. He did mention why as he made that decision - they had missed a field goal in a similar spot on the field, they didn't convert on 3rd and 4 earlier, and he didn't want to give the ball to Purdue the ball on the 35 with huge momentum after stopping the Illini.
As the Illini approach the game next week against Charlotte, there will be fans who are deeply concerned at the 1-4 start the Illini have produced thus far. The back half of the schedule looks much tougher than the first. The only relief might come in the form of teams like Minnesota, Wisconsin and Northwestern aren't as good as they were expected to be. Then again, from the opponent point-of-view, at 1-4, neither are the Illini.
Hail Mary #2 - What you need to win in college football the Illini don't have.
Watching Clemson this year without Trevor Lawrence or Deshaun Watson, it's clear Clemson isn't the steamroller we're used to seeing. They've already lost two games this season and Dabo Sweeney isn't the "perfect" coach that he was in the recent past. Even Jim Harbaugh in Michigan is struggling to beat Ohio State without finding that quarterback like Andrew Luck to be the center of a team that has strong recruits across the board.
Right now, the Illini have two quarterbacks that have earned the playing time - Brandon Peters and Art Sitkowski and both are transfers from other B1G schools. Peters transferred from Michigan while Sitkowski transferred from Rutgers. Both have been beaten out for the starting position at their old schools. This is a much different situation than gaining a quarterback who has transferred from a school that had a fantastic quarterback.
After seeing Peters struggle at the end of the last two games, it is understandable why the staff has not decided to "sling the ball around" and go to an all-out passing attack. Based on a whopping 100 passing yards on 26 attempts last night, we don't need to see Peters throwing the ball too often.
The offense has struggled through the air, but in the second half, offensive coordinator Tony Peterson used play action and misdirection plays to move the ball. This has to be the recipe to help the team be more successful - though as of yet, no code has been uncovered to help the Illini score touchdowns. With this level of quarterbacking, the Illini may not be scoring many points at any time during this season. That realization is a bitter pill to swallow.
In the long run, the staff needs to be anticipating what quarterbacks might be next into the transfer portal. This is a recruiting tool that can help this team improve for next season. The quarterback position is the highest priority on a football field. There are many famous coaches, but it's rare to have a famous coach who is not associated with at least one great quarterback. Both ingredients are necessary for winning. The Illini need a quarterback - badly - and yesterday would not have been too soon.
The school that produced great quarterbacks like Dave Wilson, Tony Eason, Jack Trudeau and Jeff George needs to figure out a way to land impact quarterbacks. Even the old model that Bielema won with at Wisconsin - strong teams with marginal quarterbacks - isn't really working any more. To really do well, the Illini need a quarterback that can lead a team and throw a football. There is no time to waste. Get it done this off season.
Hail Mary #3 - Josh McCray has a fantastic future!
Josh McCray had an excellent game and provided hope to a fanbase that is in desperate need of hope. He demonstrated a physical dominance that is rarely seen at Illinois. Personally carrying what seemed to be half of Purdue's defense to a first down was just one impressive moment for a player that had many on his way to 156 yards on 24 carries.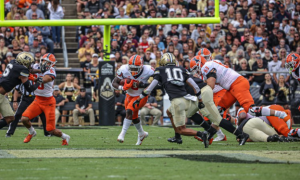 It's always fun to try to find comparisons - and it's even more fun to make them crazy over the top, to boot. As an optimist, I did have a couple of moments that made me think of greats from college football's past. As McCray ran over multiple Purdue players, I kept thinking of the toughest runner I've ever watched - Earl Campbell of Texas Longhorn and Houston Oiler fame. McCray made his mark in similar fashion. Purdue defenders won't soon forget him.
When McCray used a move that offered his shoulders as a target to defenders and then he twisted to take them away and avoided the hit to pick up a few more yards, I was shocked. Until then, he had been running over players like a PBA bowler knocks down bowling pins. He repeated this move a couple more times and at his size, it reminded me a bit of Marcus DuPree, the Oklahoma Sooner phenom, who was injured in the USFL and was never a factor in the NFL.
This is in no way trying to say Josh McCray will be either Earl Campbell or Marcus DuPree. I am saying that I'm very excited about seeing what Josh McCray will do in an Illini uniform. He has the potential to be a huge contributor to Illini success. I can only imagine how formidable he will be with improved line play (a Bielema specialty) and improved quarterbacking (a Mike Cagley wish).
I needed a ray of hope from this game and that ray of hope was Josh McCray.