July 31, 2021
A lot things happening over the last few weeks. Hard for an Illini fan to keep up with everything going on in the universe of Illini sports.
Heat Check #1 - Kofi's Back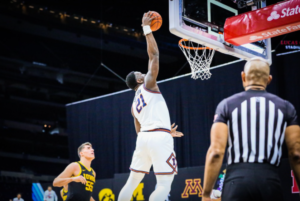 Kofi's return allows the Illini to legitimately have a shot at a second straight #1 seed in the NCAA tourney. There's little doubt the team and staff want to make a deeper run in the tourney this year, but one cannot underestimate the amount of publicity that is garnered all season long by a team that is in the running for earning a top seed. In the past, it was enough to make the ESPN highlights and Play of the Day lists to attract recruits. In today's world of social media and internet impressions, the Illini will be able to use Kofi's earth shattering dunks along with Curbelo's dazzling assists to capture more attention - particularly from the younger fans and players - and, let's not forget, potential recruits.
This ability to maintain excitement and increase engagement is the recipe which provides leverage for the coaching staff to bring home a great recruiting class in the 2002. The class already looks strong with the commitments of Jayden Epps and Sencire Harris. When talented players like Jarace Walker, Cam Whitmore, Jaden Schutt, Braden Huff, Cam Corhen, Kel'el Ware and Christ Essandoko are all looking at Illinois as a destination, an Illini team getting loads of positive publicity throughout the long college season will be a huge asset.
Without Kofi the narrative would be totally different. Most of the talk surrounding the Illini would be "what if" - as in what if Kofi had stayed. And of course, every Kofi dunk at another school being viewed on television, Instagram, or Twitter would be painful for Illini fans, players, coaches, and recruits to watch.
With Kofi, the wins coming - and the publicity they will provide - will help the Illini avoid the inevitable dip that they would've experienced if they would have lost both a 1st team All American (Ayo) and a 2nd team All America (Kofi). By landing Kofi again, the Illini staff effectively stone-walled the Illini basketball program from facing a dangerous backslide at a time when there are opportunities to move up in the collegiate basketball pecking order. The retirements of Williams at UNC and Coach K at Duke, along with the looming FBI threat aimed at Kansas, gives the Illini program the opportunity to play for both short term and long term gains in the program's prestige across the country.
Heat Check #2 - Tim Anderson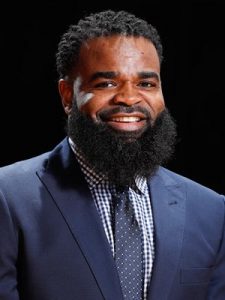 The hiring of Assistant Coach Tim Anderson is a bigger deal than many might estimate on the surface. Coach Anderson wrapped up his duties with EYBL at the end of July. Over his time and tenure with EYBL, he was able to carefully craft relationships and develop contacts across the nation. He won't be a stranger to any of the large Nike programs when he drops in to see a recruit for the first time. For coaches and players to see a familiar face is a big deal. Credibility matters. Working for EYBL provides that.
Coach Anderson's work training players for the NBA is well known. Many recruits believe they are on the path to the NBA. It's only logical to commit to a college program that has a coach who has helped train numerous NBA players. Kofi said Coach Anderson's skills were a benefit for the Illini basketball program that helped influence the man mountain to come back to Illinois.
Coach Anderson has trained numerous NBA players such as Derrick Rose, Jabari Parker, Ben Gordon, Bruno Fernando, Doug McDermott, Bobby Portis, Carsen Edwards, Charles Matthews, Kyle Kuzma, Michael Porter, Jr., and Zach Collins just to name a few. The knowledge Coach Anderson has gained from the players he has helped to reach the NBA has resulted in his own name being a brand that is respected throughout the basketball world. Clearly, he will help recruits who have an eye on improving their game in order to play for the NBA. What's less often mentioned are the benefits Coach Anderson will provide to the Fighting Illini as their players work on skill development. His eyes are the watchful eyes players want on them as Coach Anderson develops their skills.
He also has proven to be a strong performer on the recruiting trail. If one can sell DePaul, how well that same coach will do with a top 12 program historically (as Illinois is) will be fun for Illini fans to watch. His contacts in Chicago are numerous. He's worked with many different coaches and programs, but he enjoys a great relationship with Meanstreets as well. For those not aware, Meanstreets is one of the elite AAU programs in the nation.
Let's see how the 21-22 season goes, with Underwood's hires, the Illini may have a stronger staff than the prior staff. Results are what really matter, but this staff looks good on paper.
Hail Mary #1 - the Annual Illini QB Club Golf Outing and Meet & Greet
Coach Bielema couldn't have more dramatically demonstrated how different his priorities are from those of Lovie Smith. An easy way to illustrate this is looking at the Illini QB Club Golf Outing and Meet & Greet. Coach Bielema believes in involving the football team and staff with the community and doing so with 100% effort. Last Monday (July 26, 2021), the excitement around the new staff and head coach was evident. With 26 groups signed up to play golf, the outing was well attended and the excitement was palatable.
Coach Bielema made sure that literally everyone associated with the football program - whether coaches or analysts, or any other job related to football - showed up to golf with the Illini QB Club members. President Kelly Rund, noted in her public comments at the Meet & Greet, that the coaching staff was wonderful to work with and it's been a long time since fans were this excited.
While this event matters very little when it comes to playing games on Saturdays, it does demonstrate that under Coach Bielema when the staff is engaged in a task, they will go at that task with 100% effort and goals will be accomplished. If "fun" could be mandated by one person, it looks like Coach Bielema successfully did so on Monday.
For the staff's part, they were creating and building relationships with key members of the public. There was no sense of individuals who were attending only because they were required. The staff was fully engaged in their interactions and it was clear they were having as much fun as the Illini QB Club members. If one didn't know it, one would've thought that the coaches and their golf partners had been friends for years.
Coach Bielema's own attitude towards attacking the job of being the head coach of the Fighting Illini football program will make for noticeable changes in the way the Illinois football program acts and will be reacted to. It can't be fun for opposing coaches who are already experiencing a few recruiting losses inside the state of Illinois that just last year would've been easy victories. One can see how recruits are making decisions to play for this staff and under this head coach. There's a change going on right now in Champaign-Urbana. The U of I football team that has been largely hibernating since the early 90's is starting to wake up.
With practice starting this week, expectations are increasing. The Illini have a challenging schedule with a team loaded with Super Seniors. While these Super Seniors have had a challenging career so far, it will be interesting to see what they can do with a new staff and a new attention to detail coming from the top. On Monday, a lot of Illini QB Club members were excited about this season. Everyone seemed ready to get the season started.