By Gavin Good/IlliniGuys.com Contributor
March 31, 2021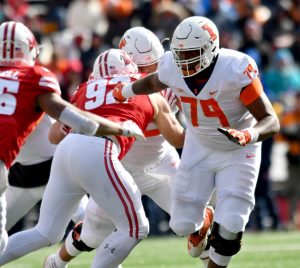 When Vederian Lowe chose to come back to Illinois for a fifth season, it was a move that would have implications for more than just a football team. After starting 40 games for the Illini since arriving as a freshman in 2017, Lowe could've departed for the NFL draft, as several of his teammates did.
But while financial impact of getting drafted or making a roster was appealing, Lowe lives a different life than most 21-year-old college athletes. He's got his wife, Haylee, and his one-year-old son, Kingston, right here in Champaign. Just married in February, the couple has another son on the way, expected to arrive in May.
When it came to weighing his options, Lowe knew it wasn't just about himself or his football career. He had also recently taken his teenage brother, Vydalis, into his home in 2020. The plan is to hopefully gain legal custody and take him wherever he lands when he does launch his pro career.
"I have great support here," Lowe said in December after announcing his return. "It's not like I don't have anybody to lean on when things get tough, when times get hard."
On Tuesday, Lowe looked back on his choice. After a few months working with new head coach Bret Bielema and his staff, Lowe said it's clear he made the right move. "I'm glad I made that decision," Lowe said. "Not only for my family, but for myself and the school aspect."
Scheduled to graduate in December with a degree in communications, Lowe has a lot on his plate right now.
He's a father, an older brother, a husband and a role model. He's a teammate and a leader. He's also a pretty damn good offensive lineman, and he will once again anchor the Illini line at left tackle this fall.
Since being thrusted into the trenches as a true freshman, Lowe and the Illini have lost far more many games than they have won. Part of Bielema's pitch to get players to return was that he could help them to reach their potential. That resonated, and now the Illini are set to return 21 "super seniors" because of extended NCAA eligibility with the pandemic, including Lowe.
"It helps a lot," Lowe said. "It's good to have people who have come back, players who know the facilities who just want to see great things happen to this university, for this team. We've been the forgotten thought of the Big Ten for a very long time. I just want to help this university do great things."
Change is here
Lowe is more qualified than most around the program when it comes to assessing the regime change. Over the last few months, Bielema has hired a new staff, hit the ground running and already has commits rolling in at a faster clip than in the Smith era. Lowe sees all of that first-hand.
"The staff here is trying to change the culture, change the way the guys view Illinois football," Lowe said. "They want guys to come in earlier. They want guys to work on recovery. They want guys to dedicate themselves more than they ever have to this sport, to this game and to being an elite program. That's a major change in what we're used to. Guys are used to coming in, doing their own thing."
After going through two brutal seasons as an underclassman, Lowe briefly experienced what it's like to go on a winning run when the Illini got hot in 2019 and managed to earn a trip to the Redbox Bowl.
Obviously, a 2-6 campaign last fall was frustrating, especially with all that went into executing a pandemic-affected season. So far, Lowe thinks Illinois is making the needed improvements to get back to being competitive this time around.
"It makes you want to invest yourself even more," Lowe said. "This is the way that things should be ran. This is what will help us take that next step. We've had the guys to take that never step, we just never have. With the staff coming and wanting to change the culture, wanting to change the way we do things as a team, it will just invest more guys into it."
"Guys are at the stadium more often than they ever were," he continued. "I think some of the guys spend the whole day up here, and it's not just because the facility is very nice."
The welcome change isn't just coming from Bielema or from motivated returners. Lowe said that new strength and conditioning coach Tank Wright has brought a new focus on preventing soft tissue injuries, and that his workouts have been productive.
More than that, Lowe has also been pleased with the help he has received in altering and planning his diet, and he appears to have leaned out a little bit as a result. "I'm feeling a lot better than I have in recent years," Lowe said. "For one, Coach Tank and his staff, they all came in with a vision for everyone and a vision for this team."
"I've taken this offseason more seriously than I have any year," he continued. "Just hammering down on my diet and everything, them telling me what I should eat and what I shouldn't eat. Then working out with Coach Tank in the weight room and trying to build the muscle mass that I need to be a dominant o-lineman."
Wright played briefly in the NFL and in the Canadian Football League before starting his coaching career under Bielema at Arkansas in 2014. He knows what league scouts are looking for and tries to equip his players in order to develop, according to Lowe.
"He knows what it takes to be great and he knows what it takes to show those NFL scouts that you're really a beast," Lowe said. "They gave us all the tools and told us everything we need to do to start making progress."
The Illini spend the first half-hour of workouts working on stretching and soft tissue exercises to prevent injuries and keep players loose, something Lowe appreciates especially after a physical four-year grind against Big Ten linemen.
It's another new development, but a welcome one.
"I've never worked on this much soft tissue, all the stretching and everything he does, I've never worked on that as much as we do," Lowe said. "(Wright is) gonna make sure you're taken care of, but you have to give it your all. That's what he's done to this team."
The improvements haven't been confined to Lowe alone. He sang praises for his new offensive line coach Bart Miller, and also singled out teammate Julian Pearl as another player who has taken a big step over winter workouts and into spring ball.
With Lowe, tackle Alex Palczewski and center Doug Kramer all back, and with Wofford transfer Blake Jeresaty finally healthy, Miller will likely only have to replace left guard Kendrick Green in the starting lineup.
After two seasons under Bob McClain, Lowe said that part of Miller's early work is getting players to buy in and ditch their old habits or no-longer-needed techniques. It's a process.
"We've had the same offensive line coach for two years now, so guys are kind of set in their ways," Lowe said. "It makes it a little difficult for guys to transform their old ways, their old techniques, to what Coach Miller wants us to do now."
But Miller is a go-getter. Lowe said he has been putting in the time to get acquainted with his group.
"Coach Miller is always saying after every meeting, 'Hey, tomorrow, come in. If I'm not in my office, if I'm in offensive meetings, just pull me out. I'll come help you watch film,'" Lowe said. "They're just trying to change what we're used to doing, and I think that's what the major difference is."
It's still just spring practice. But the Illini are doing what they can to improve marginally each day.
From its high-energy approach and altered workouts, to its freshness with the current crop of players, the new staff is certainly making an impact with the Illini.
In his final year of college ball, with chances to rack up impressive film and a hunger to turn the program around, Lowe is seeing things differently. Evidently, many of his teammates are, too.
"It's a different vibe around the facility with those guys in there," Lowe said. "Guys actually show up to workouts ready to give it their all. No one's coming in trying to just, 'we'll get through it today..' Guys want to crush the workout. You get done and you feel great."