By Kedric Prince – IlliniGuys.com Director of Recruiting
July 18, 2021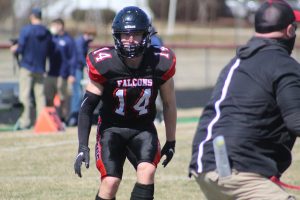 Aidan Laughery, the 5-foot-11, 185-pound running back from Gibson City, pledged to the Fighting Illini Wednesday night. Laughery had several offers, but narrowed his choice down between two Big Ten schools; his home state Illini and its rival Iowa Hawkeyes.
Two hats sat on the table, adding more excitement to the announcement. When Laughery pulled off his jacket that had an Illinois t-shirt underneath and put on the orange and blue hat, a sigh of relief hit Illini Nation. More on the hat later.
IlliniGuys was able to talk to Laughery the day after his commitment.
Kedric: You had two hats sitting on the table, Aidan. What made you pick Illinois over the Hawkeyes? Walk us through it.
Aidan: I would say just really knowing that I want to help build Illinois into a title contender. I wanted to do it for Coach B (Bret Bielema) and the staff. The family atmosphere there is different, I could feel it the entire time I was there on my visit. I liked Iowa; the people there were awesome, but it was about being home for me.
Kedric: Do you know the history or bad luck Illinois has had over the years when there are two hats sitting there and going head-to-head with their rival school? Were you prepared from the backlash from the Illinois fans had you picked Iowa?
Aidan: To be honest, beforehand I was laughing because all of the people commenting saying if I committed on WCIA to Iowa, I was all this and that. So I knew I was going to make a lot of people happy. The Illinois fans have shown me a lot of love during this time. I want them to know it excites me and I'm going to pour my heart into that school when I get there.
Kedric: In the last three months I have talked with well over 50 recruits in different classes, they all keep talking about this one word again "FamILLy." What's the real  meaning behind this as a recruit?
Aidan: I can't describe it. You get the feeling you will always have someone around who cares about you and standing behind you waiting to back you up if something good or bad happens. We are there to play football but the coaches are also focused on making men out of us so we can be productive in the world; working and being a good husband. When a football coach tells you things like that, you know they have your back no matter what. They want to do things right on and off the football field. Athletic director Josh Whitman was there on my visit, he said, "Something special is happening here and it's the best kept secret in the nation." I believe that and the other players do too.
Kedric: Do you guys really think you and this coaching staff have what it takes to turn this football around and make it respectable?
Aidan:  Oh heck yes, I do. Everyone is buying in. The players feel it, the staff feel it; this is not just talk. I know for a fact Illini Nation will see a big improvement from what they're used to seeing on the field.
Kedric: What's your message to the fans that question your size or the fact that you're from a smaller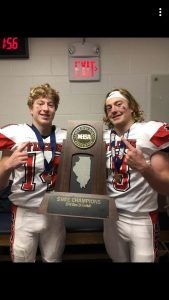 school, Aidan?
Aidan:  Hahaha, it makes me laugh. A lot of people think the competition I play in is really bad. We have a lot of good teams around here that are our size that are no joke; they could take on bigger schools without question. I would just say you can't teach speed, and I will always raise my game to the level of competition and keep learning. I like to play the underdog role, I've always had a chip on my shoulder and felt underrated as a player. Personally, I think if I went to a bigger school I would have received a lot more offers. But I am happy with my decision and that's all that matters.
Kedric: Thank you, kid, well done.
Aidan: Yes sir, excited to get to work, I appreciate your questions sir. I-L-L!
Kedric I-N-I!
Please follow me on Twitter @KedPrince4.
PrinceKedric@yahoo.com
(Photos courtesy Aiden Laughery via Twitter)