Illini will now play in Week 0 in back-to-back seasons as the 2022 non-conference home matchup against Wyoming has been moved to Aug. 27
By Matt Stevens - IlliniGuys Football Writer/Analyst
June 21, 2021
CHAMPAIGN, Ill. -- The one piece of tangible news coming out of the media roundtable availability with Illinois athletics director Josh Whitman was a football scheduling update.
The Illini will now play in Week 0 in back-to-back seasons as the 2022 non-conference home matchup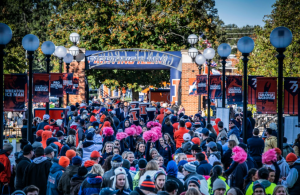 against Wyoming has been moved to Aug. 27. Illinois is slated to open this upcoming season on Aug. 28 against Nebraska (12 p.m. CST, FOX) in the first kickoff in college football in 2021 and will also serve as the debut for first-year Illini head coach Bret Bielema.
"We are excited to be the first college football kickoff at 100 percent capacity in nearly 20 months," Bielema said. "The combination of being the first college football game of the season and being at full capacity will allow our fans to show the country that Memorial Stadium is an electric environment."
Wyoming and Illinois agreed to the single-game contest in 2014 but it was originally slated to take place in September as the third game of the 2022 slate. However, in accordance with NCAA rules, since Wyoming plays a Mountain West Conference game at Hawaii in 2022, they're eligible to schedule a Week 0 game if they choose to do so.
According to the signed contract between the two schools, Illinois will pay Wyoming a $1.1 million guarantee for the matchup. Illinois is now slated for an additional open week in 2022 for Sept. 17 after they host Wyoming, play at Wisconsin and host Virginia.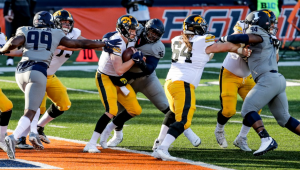 "We are excited about this scheduling change as it will give us another opportunity for an early start to the season and a big platform in terms of having a lot of eyeballs on our team and our game," Whitman said. "It will also add an additional open week as we think will be helpful as we move through this 2022 season."
Wyoming is coming off a 2-4 campaign in 2020 that saw two of its home games cancelled (vs. Air Force and vs. Utah State) by the Mountain West Conference due to an upswing in coronavirus cases for both of the Cowboys' slated opponents. Prior to the 2020 season, Wyoming had six wins in each of its last four seasons under head coach Craig Bohl, who won three consecutive Football Championship Subdivision national titles at North Dakota State from 2011-13 before taking over at Wyoming.
Illinois offensive line coach Bart Miller came to Champaign after a two-year stint as the offensive line coach/running game coordinator in Wyoming. In his first season coaching their offensive line, the Cowboys were named to the 2019 Joe Moore Award Honor Roll, which honors the top collegiate offensive line unit in the nation. Wyoming's offensive line also paved the way for the Cowboys to rank second in the Mountain West and No. 23 in the nation in rushing offense in 2019, averaging 214.8 rushing yards per game.
The 2022 matchup will be the first between the two schools but the game will serve as an early-season test before Illinois heads to Madison the following week in what will be Bielema's first trip back to Wisconsin since leaving the Badgers program for Arkansas. Bielema went 68–24 in seven seasons at Wisconsin from 2006-12 including three straight Big Ten Conference championships and a trio of Rose Bowl appearances. The Illini haven't won in Madison since 2002 and the recent matchups in Camp Randall haven't been close as the Badgers have outscored Illinois by a combined 142-30 in the last three times they've hosted the Illini.
Wisconsin will not have a game before opening the 2022 season by hosting the Illini in what will be four straight home games for the Badgers.
Illinois is 4-4 all-time in games during the month of August but are 4-0 in Champaign during such early-season games.