FOR IMMEDIATE RELEASE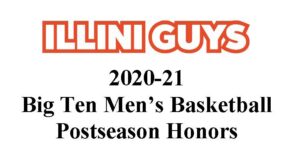 2020-21 Big Ten Men's Basketball Postseason Honors Announced
CHICAGO and CHAMPAIGN, Illinois/March 12, 2021
ILLINI GUYS, a multi-media organization and the operator of IlliniGuys.com, announces its 2020-21 Big Ten Men's Basketball honors today.
The honorees were selected by the IlliniGuys.com staff with more than a century of collective experience in basketball and sports media. "We did a deep dive into each selected player's individual performance throughout the season as well as that player's impact on his team's success," said ILLINI GUYS co-founder Brad Sturdy.
"We are confident that our list represents the most objective and in-depth analysis of the best players and coaching staff in Big Ten this season," stated Kedric Prince, IlliniGuys.com's Director of Basketball. "We developed our own 'performance metric' point system to evaluate and rank these players and coaches. Unlike postseason team selections by other organizations, we chose to select the five best players for each team regardless of their positions," added ILLINI GUYS co-founder Mike Cagley.
ALL BIG TEN FIRST TEAM
Ayo Dosunmu, Illinois (Guard, Junior, 30 points)
Luka Garza, Iowa (Center, Senior, 30 points)
Kofi Cockburn, Illinois (Center, Sophomore, 30 points)
E.J. Liddell, Ohio State (Forward, Sophomore, 28 points)
Duane Washington, Jr, Ohio State (Guard, Junior, 18 points)
ALL BIG TEN SECOND TEAM
Hunter Dickinson, Michigan (Center, Freshman, 17 points)
Marcus Carr, Minnesota (Guard, Junior, 17 points)
Trevion Williams, Purdue (Center, Junior, 15 points)
Joe Wieskamp, Iowa (Guard, Junior, 15 points)
Trayce Jackson-Davis, Indiana (Forward, Sophomore, 14 points)
BIG TEN PLAYER OF THE YEAR
Ayo Dosunmu, Illinois
BIG TEN COACH OF THE YEAR
Juwan Howard, Michigan
BIG TEN DEFENSIVE PLAYER OF THE YEAR
Trent Frazier, Illinois
BIG TEN FRESHMAN OF THE YEAR
Hunter Dickinson, Michigan
BIG TEN SIXTH MAN OF THE YEAR
Andre Curbelo, Illinois
IlliniGuys.com is a one-stop destination for sports news, analysis and interactive contents delivered to subscribers. It offers podcasts, message boards, a chat room, pre- and post-game analyses, subscriber video conference calls and recruiting updates by in-house and guest experts as well as special appearances by "Illini Legends" and other national sports and entertainment personalities.
ILLINI GUYS is an independent media organization and is not affiliated with the University of Illinois.
SOURCE: ILLINI GUYS
Related Links:
Website: IlliniGuys.com; Twitter: @Illini_Guys; Facebook: facebook.com/illini.guys; Email: info@IlliniGuys.com