By Matt Stevens - IlliniGuys Football Writer/Analyst
August 25, 2021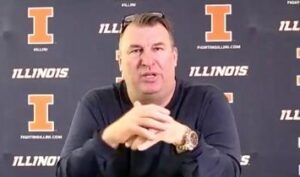 CHAMPAIGN, Ill. -- Illinois head coach Bret Bielema said Monday it was "it is in our best interest to kind of stay in that neutral mode" and not produce a depth chart before kickoff of its 2021 season opener vs. Nebraska on Saturday (Noon, FOX).
Fair enough. Bielema, who is not required by the Big Ten Conference office to produce such information to the public, also acknowledged that "obviously there are guys you know are going to start, right?" and so, the leader of the Illini program is acknowledging speculation is more than reasonable if they're not going to control the message with a depth chart.
Bielema did confirm what was already highly expected news that sixth-year senior Brandon Peters would be the team's starting quarterback without confirming any other starters except for the six team captains named Saturday (cornerback Tony Adams, punter Blake Hayes, outside linebacker Owen Carney Jr., linebacker Jake Hansen, offensive tackle Vederian Lowe and center Doug Kramer).
We at IlliniGuys.com are going to go a bit further and give you a three-deep at each position days before the Illini open the Bielema era against Nebraska, which also failed to produce a basic depth chart on Monday as well.
OFFENSE
QB - Brandon Peters, Sr.; Artur Sitkowski, RS-Soph.; Matt Robinson, Soph.
TB - Chase Brown, RS-Soph.; Chase Hayden, RS-Jr.; Reggie Love, RS-Fr.
WR-X - Brian Hightower, Jr.; Khmari Thompson, Soph.; Pat Bryant, Fr.
WR-Y - Donny Navarro, Jr.; Casey Washington, Soph.;
WR-slot - Isaiah Williams, RS-Fr.; Jafar Armstrong, Jr.; Carlos Sandy, Soph.
LT - Vederian Lowe, Sr.; Moses Okpala, RS-Fr.; Zacharey Barlev, Fr.
LG - Blake Jeresaty, SR.; Jack Badovinac, Sr.; Evan Kirts, RS-Fr.
C - Doug Kramer, Sr.; Josh Plohr, RS-Fr.; Josh Kreutz, Fr.
RG - Julian Pearl, RS-Soph.; Alex Pihlstrom, Jr.; Brody Wisecarver, Fr.
RT - Alex Palczewski, Sr.; Julian Pearl, RS-Soph.; Josh Gesky, Fr.
TE - Daniel Barker, RS-Jr., Luke Ford, RS-Soph.; Tip Reiman, RS-Fr.; Branden Hohenstein, Sr.,
FB - Max Rosenthal, RS-Jr.; Michael Marchese, Sr.
DEFENSE
RE - Keith Randolph, RS-Fr.; Deon Pate, RS-Jr.; Quinton McCoy, RS-Fr.
NT - Rod Perry, Sr.; Calvin Avery, Jr.; Verdis Brown, RS-Soph.
LE - Jer'Zhan Newton, RS-Fr.; Jamal Woods, Sr.; Sed McConnell, Fr.
OLB - Isaiah Gay, Sr.; Seth Coleman, RS-Fr.; Shammond Cooper, RS-Fr.
OLB - Owen Carney Jr., Sr.; Ezekiel Holmes, RS-Soph.; Bryce Barnes, Soph.
ILB - Jake Hansen, Sr.; Tarique Barnes, Soph.; Isaac Darkangelo, Soph.
ILB - Calvin Hart Jr., Soph.; Khalan Tolson, Jr.; Alex McEachern, Jr.
CB - Tony Adams, Sr.; Eddie Smith, Jr.; Tahveon Nicholson, Fr.
CB - Devon Witherspoon, Soph.; Kendall Smith, Sr.; Kionte Curry, Fr.
STAR/SS - Sydney Brown, Jr.; Prather Hudson, Sr.; Derrick Smith, Jr.
FS - Jartavius Martin, Jr.; Kerby Joseph, Jr.; Kionte Curry, Fr.
SPECIALISTS
PK - James McCourt, Sr.; Caleb Griffin, RS-Soph.
Punter - Blake Hayes, Sr.; Hugh Robertson, Fr.
LS - Ethan Tabel, Sr.; Lane Hansen, Fr.
PR - Caleb Griffin, RS-Soph.; Carlos Sandy, Soph.
KR - Jakari Norwood, Soph.; Reggie Love, RS-Fr.