By Brad Sturdy - IlliniGuys Insider
September 8, 2021
On Wednesday the Big Ten released the conference men's basketball schedule, so we now know when the Illini will be playing in their quest to win the Big Ten title. The Illini start the season ranked as high as #6 on Bart Torvik's T-Rank and are within the top 15 in most polls. We knew their home and home and single matchups, but now we have the dates. Let's break down the entire schedule.
November 9 Jackson State
The first critter on the list, the Tigers were 12-6 a year ago, including 12-1 in SWAC play. They will get out and guard but struggle to score. Good opener for the Illini as this team is projected as a top 200 team by computer models, should compete for the SWAC title and features 8 Seniors expected to get playing time.
November 12 Arkansas State
The second critter and final tune up, the Red Wolves were 11-15 a year ago. They have a quality PG in Marquis Eaton which will be a fun matchup to watch. A similar squad to JSU, they will compete in the Sun Belt.
November 15 At Marquette
As a part of the Gavitt Games the Illini head to Milwaukee to take on the Golden Eagles and new head coach Shaka Smart. MU was 13-14 a year ago and that led to a new coach. If Dawson Garcia had chosen Illinois this would be more intriguing, but former Maryland Guard and top defender Darryl Morsell will be a familiar name. Illinois has to win in front of a hostile crowd for the first time in almost 2 years, and Marquette is a top 100 opponent.
November 22 Cincinnati in Kansas City
The Bearcats were 12-11 a year ago and should be a middle of the pack AAC team and top 100. They feature a talented wing in Jeremiah Davenport and a solid PG in David DeJulius, while adding an SEC big man in Abdul Ado from Mississippi State. This will be a good matchup in a great atmosphere in Kansas City.
November 23 Kansas State/Arkansas in Kansas City
Arkansas is a legit top 30 team and Kansas State is a top 100 team. Arkansas should win but this is the type of veteran team Bruce Weber overachieves with. Arkansas was a 25-7 Elite 8 team a year ago, but lost a lot of firepower. Miami transfer Chris Lykes, Pitt transfer Au'Diese Toney and South Dakota transfer Daniel Umude join key returnees JD Notae and DaVonte Davis as well as 7'3 big man Conor Vanover in what is a talented roster. Kansas State has former Illini and Missouri transfer Mark Smith, but they will rise and fall with Guards Nigel Pack and Mike McGurl as well as talented young big man Davion Bradford. No matter the team, this one should be fun.
November 27 UT Rio Grande Valley
This team should not be confused with the UTSA football team, although they did beat the UTSA basketball team a year ago en route to a 9-10 mark. The Vaqueros should be a 300+ team and are just a glorified practice before the schedule ramps up.
November 29 Notre Dame
The Irish were just 11-15 a year ago, but have some key returnees. Prentiss Hubb is a quality PG, Wings Cormac Ryan, Trey Wertz, and Dane Goodwin can all play and big man Nate Laszewski can really stretch the floor. Add in Yale transfer big man Paul Atkinson and this a formidable top 30 foe with 6 key Seniors and nothing to lose in this Big Ten/ACC matchup.
December 3 Rutgers
Steve Pikiell will have his team defending, and on days when Geo Baker and Ron Harper get it going, they will be tough, especially at home. Myles Johnson and Jacob Young are gone to Oregon and UCLA, but the man everyone loves to hate Paul Mulcahy is back along with talented Sophomore big man Cliff Omoruyi to give them a solid core. Who runs the show and who provides the depth? Those are the questions that make this a top 100 team instead of a top 25-50.
December 6th At Iowa
Nothing like opening the season with a rivalry. We won't get to see Luka Garza and Kofi Cockburn go at it, but Trent Frazier and Jason Bohannon for a 5th year is also fun. Not to mention the annual boxing match between DaMonte Williams and the McCaffrey brothers. The Hawkeyes lost Joe Wieskamp (NBA), Garza (NBA), CJ Frederick (Kentucky) and Jack Nunge (Xavier), so this is no longer a top 10 team, but they will score enough to pull some upsets. The key might be the emergence of Sophomore Wing Keegan Murray. He's got NBA talent if he puts it all together.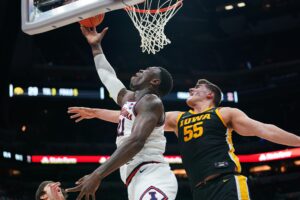 December 11 Arizona
The return game from 2019-20 will have a different look, as Sean Miller is gone and Gonzaga assistant Tommy Lloyd takes over. The Wildcats were 17-9 a year ago but return some talent. Wing Benedict Mathurin and Big Man Azuolus Tubelis will lead the way, but the Cats also have PG Kerr Krisa and 6th year SG Justin Kier from Georgia. Watch out for Gonzaga big man transfer Oumar Ballo to make an impact, while Utah transfer and shooter Pelle Larson and August transfer Kim Aiken from EWU, who was unable to get into grad school at Washington State, add depth. This team is a top 40 team that could be better by the end of the season.
December 18 St. Francis (PA)
Coming off of a 6-16 record a year ago, the Red Flash should be just what the doctor ordered after finals week and to tune up for Mizzou. The Red Flash will be in the bottom half of the top 300 nationally.
December 22 Missouri in St. Louis
The Braggin' Rights game in St. Louis is back. After travelling to Missouri a year ago Illinois has a chance to get some revenge against a new look Missouri squad with low expectations. Illini killer Javon Pickett and Forward Kobe Brown are the only returnees from their top 7. K State transfer DaJuan Gordon will help on the wing, while transfers from UMass (Ronnie DeGray), Green Bay (Amari Davis) and Ball State (Jarron Coleman) will have to have a major impact. The development of 7'3 Jordan Wilmore will be a key for them, but this looks like a team that will struggle to score and finish in the bottom half of the SEC.
December 29 Florida A&M
The final critter of the season, the Rattlers were 8-12 a year ago and will not be a stiff test as the Illini recover from Christmas festivities. They are a veteran group led by a trio of 4th and 5th year Seniors, but they have no match on the inside and should be a tune up for Big Ten play.
January 2 At Minnesota
Perhaps no team looks as different as Minnesota, with their top 5 likely being from the transfer portal. New head coach Ben Johnson will get some time, and he will need it. This is a team that will likely be outside the top 100.
January 6 Maryland
Maryland is a legit top 25 team but some rankings have them even higher. Erik Ayala and Donta Scott return to lead the way, but the big impact will come from Georgetown transfer big man Qudus Wahab and Rhode Island Guard transfer Fatts Russell. Both could make the all name team, and both can play.
January 11 At Nebraska
This will be the best team Fred Hoiberg has had at Nebraska. He adds an impact Freshman in Bryce McGowens to his older brother Trey, and also adds former Illinois prep star Alonzo Verge from Arizona State. Add in Senior G Kobe Webster and it's a formidable backcourt. Lat Mayen is the only semi-proven frontcourt player however and that keeps the Huskers outside the top 50 and in the middle tier of Big Ten teams. Coming off of a 7-20 season, that's a nice improvement.
January 14 Michigan
Two of the Big Ten favorites and the teams that argued over who was the true champion a year ago will clash again in Champaign in the first of their home and home. Hunter Dickinson and Eli Brooks are back along with a loaded Freshman recruiting class and transfers like Coastal Carolina's DeVante Jones. Five star Forwards Caleb Houstan and Moussa Diabate are expected to make a large impact for Juwan Howard's bunch.
January 17 Purdue
The trio at the top, Purdue, Illinois and Michigan, seem to have a bit of separation from the rest of the league and Illinois will get to play Purdue twice as well. Cockburn and Payne against Williams and Edey up front, with Curbelo against Ivey in the backcourt will be fun to watch. Back to back home games against the other favorites are a chance to send a message for Illinois.
January 21 At Maryland
This is the second meeting between the two squads and the Terps might be able to take advantage of a fatigued Illini team following two slobber knockers at home.
January 25 Michigan State
A top 30 team, Tom Izzo doesn't have the talent he once did, but they are always dangerous. Senior Joey Hauser and Freshman Max Christie appear to be the stars, but they will have good depth, with Gabe Brown, Malik Hall and AJ Hoggard. A key for them might be Northeastern transfer Tyson Walker, who should help Freshman PG Jaden Akins get acclimated.
January 29 At Northwestern
The computers show Northwestern as a top 50-60 team, and they return a ton, but they were 9-15 a year ago and will have to improve on both ends of the floor to catch up with the rest of the league, where they were 13thin adjusted defense and 12th in adjusted offense. They return a bunch, led by Boo Buie, Chase Audige and Pete Nance, but losing Miller Kopp to the Hoosiers could hurt. Does Ty Berry make a leap?
February 2 Wisconsin
We now know Greg Gard isn't a player's coach, but the guy can coach and will have a solid team. The problem is that they lost most of their firepower. Cincinnati transfer Chris Vogt is going to be huge for them, literally and figuratively. Can he make up for the losses of Potter, Reuvers, Ford and Trice? Probably not, but this looks like a middling Big Ten team that will be on the NCAA bubble. Of course, we've said that before about the Badgers.
February 5 At Indiana
New Coach Mike Woodson has an all conference player in the frontcourt in Trayce Jackson Davis, and some highly touted backcourt players. USF transfer big man Michael Durr will allow TJD to play the 4 some, and Northwestern transfer Miller Kopp and Pitt transfer Xavier Johnson should help with scoring. Does former 5 star Khristian Lander figure it out in year 2? This is for sure a top 50 team, how high they go may depend on that answer.
February 10 At Purdue
Mackey Arena is a house of horrors for most teams, but the Illini have fared well against the Boilers the past two seasons, with a 3-0 overall mark and a 17 point win in West Lafayette. Expect this one to be a lot closer.
February 13 Northwestern
The Wildcats have battled the Illini at the State Farm Center despite losing all 3 contests to Brad Underwood in the SFC. Can't take anyone lightly in this league.
February 16 At Rutgers
It's never easy to win at the RAC, so this will be a tough one. Rutgers guards well, but if the Illini can use their depth they likely sweep the Scarlet Knights. The Knights will need to stay healthy, as they lack the depth to handle injuries.
February 19 At Michigan State
The Illini hope to leave East Lansing with all limbs and noses intact this season, unlike a year ago. The Spartans will muck it up if they feel like they can't compete athletically, but the Illini are a year older and a year wiser with more depth than a year ago.
February 24th Ohio State
This is a part of a brutal stretch for the Buckeyes to close out Big Ten play and the only meeting between the two teams. Duane Washington and CJ Walker are gone, but All Big Ten Forward EJ Liddell is back to lead a top 25 team. Penn State transfer Jamari Wheeler solidifies their backcourt some but transfer Seth Towns having back surgery hurts their depth. Kyle Young and Justice Sueing return up front, but the Buckeyes lack size unless Joey Brunk magically becomes more than he has ever been following his injuries. Expect PG Meechie Johnson to surprise once he is healthy. They should be just outside the top 3 in the B1G and may push for a conference title if things go well.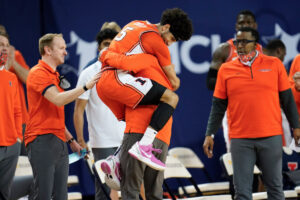 February 27 At Michigan
The Illini dominated the Wolverines in Ann Arbor a year ago, and you can bet the Wolverines want to rectify that this time. This could be a game that decides the Big Ten regular season crown.
March 3 Penn State
Micah Shrewsberry, the former Purdue assistant is now in charge in Happy Valley and he has quite a rebuilding job in front of him. Although PSU is a top 75 type of team, they lack some firepower. John Harrar is a physical big an and Seth Lundy, Samuel Sessoms and Myles Dread are veterans that should keep the Nittany Lions competitive.
March 6 Iowa
It's the last game of the regular season and we get the heated rivalry back again.  Illinois could be playing for a Big Ten title and Iowa for an NCAA berth. It's always fun when these two meet.