Connor Cagley, IlliniGuys Basketball Writer
January 14, 2022
Game Essentials:
Undoubtedly there was controversy surrounding Michigan and Illinois to end last year's season. This is still a game that is circled on both teams' schedules, but it doesn't have as much weight as expected by the basketball media this preseason. Michigan is drastically underperforming versus expectations - sitting at seven wins and six losses. There is some uncertainty as to who will play for Michigan in the Friday night matchup, but it's safe to say whoever dresses for the game will be fired up given the animosity between these two teams.
With Michigan State hitting a buzzer beater to squeak past Minnesota at home on Wednesday, Illinois will need to continue their win streak to stay in first place for the conference standings.
Two Questions
Question #1 - Who will win the battle down low?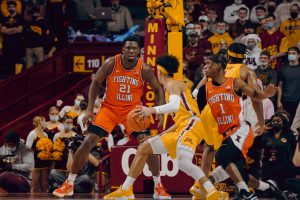 Coming into the season, the two Big 10 players garnering the most talk were Michigan's Hunter Dickinson and Illinois' Kofi Cockburn. For the first time this season, they will be going head-to-head. Based on play through this point in the season, it seems Cockburn should have the edge. The lone time they've matched up in college, both got into foul trouble turning it into a battle of the back-ups. Most fans don't want to see players of their caliber sitting on the bench, but with the unpredictability of college refs there's nothing to say it won't happen again. With this in mind, other post players need to be ready should they need to answer the call to play extended minutes.
Both Coleman Hawkins and Omar Payne were able to give Illinois quality minutes versus Nebraska, with Payne's play late in the game arguably his best all season. It may even have saved the Illini from what would have been an embarrassing loss and a blemish on their tournament resume. It will be interesting to see if Payne can build off his last performance, even if he only gets ten or so minutes of playing time. If he's able to play solid minutes when Cockburn is not on the court, Illinois could have the best center rotation in college basketball.
When Michigan doesn't have Dickinson on the floor, they will have Brandon Johns or Moussa Diabate at the five. Diabate is more polished on the defensive side of the ball and a little more comfortable at the center position. It's easy to see why scouts like him, as he gets up and down the court like a guard and is comfortable guarding on the perimeter on switches. Johns, on the other hand, is better at spacing the floor as a power forward, even though he's struggled this year with shooting. If he isn't hitting from deep, Illinois should sag off him as he's the weakest offensive threat.
Should Illinois get better production from the four and five, it will be hard for Michigan to keep up.
Question #2 - Will Alfonso Plummer bounce back?
Few would have predicted Alfonso Plummer to be the second leading scorer for the Illini fifteen games into the season. But at 15.9 points per game, 46% from the field, and just under 41% from the three, Plummer has proven himself to be a huge find in the transfer portal. He's still averaging double figures for the last three games, but his shooting splits from the field and three have fallen significantly.  With the lack of depth right now at guard, Illinois will be counting on him to shoot the ball, to help provide spacing, and keep defenders honest. Getting him a couple of sets early could help boost his confidence and get him into rhythm shooting the ball.
Plummer sometimes gambles on defensive steals, but it seems Coach Underwood is fine with that style of play – understanding that his offense makes up for his lack of defense in certain matchups. If he has a good shooting night, Illinois will be tough to stop on that end of the court.
Prediction: Illinois 75 – Michigan 70
In a game that should not be short of emotion and energy, Illinois looks to be the better team. Michigan has talent but hasn't pulled it all together just yet. Michigan can be expected to play better in this "rivalry" game, but it most likely won't be enough for them to prevail against this Illinois team that is proving to be a real contender in the conference title race.