Essentials
Fighting Illini (11-3, 4-0) at Nebraska Cornhuskers (6-10, 0-5)
7:30 pm CT on Tuesday, January 11, 2022
Pinnacle Bank Arena, Lincoln, Nebraska
TV Channel: BTN (Jeff Levering & Brian Butch)
Online Streaming: FoxSports.com/Live & Fox Sports App
Radio: WDWS 1400 (radio and streaming), WLS 890 (Chicago) & Busey Bank Illini Sports Network
Live Statistics:  Statbroadcast
Latest odds, Money Line and Over/Under: Illinois -13.5, Illinois -900 and O/U 151
Connor Cagley, IlliniGuys Basketball Writer
January 11, 2022
The Fighting Illini arrive in Lincoln, NE as one of the hottest teams in the B1G playing tonight against the CornHuskers at 7:30 pm on BTN. The Illini are winners of four straight games and nine of their last 10 - and are back in the AP Top 25 after a six-week absence. Illinois has an eight-game B1G winning streak coming into the game with a 4-0 B1G start and finishing last year winning their last 4 B1G games. This is the Illini's longest streak since their school record 25 B1G wins in a row across the 2004 (10) and 2005 (15) seasons. If one includes the Illini run to the 2021 B1G Tournament Championship, the Illini have won 11 straight games against B1G opponents.
The rivalry versus Nebraska has been one-sided in favor of the Illini, who lead the series with 18 wins against only 8 losses. The Cornhuskers are much tougher at home against the Illini as the record stands at an even 5-5 in Lincoln. The last meeting in Lincoln was a dramatic 77-72 OT Illini victory.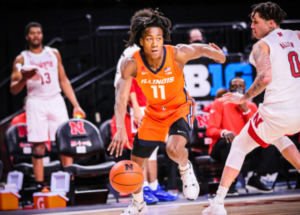 Nebraska led 61-56 with 3:30 left when Dosunmu put the team on his back, scoring the UI's last 10 points of regulation highlighted by a driving layup with 20 seconds remaining to force overtime. Dosunmu then scored the first five points of OT on a layup followed by a three from the top of the key. That capped a personal run of 15 straight points for the Illini, putting the Orange and Blue a 71-66 lead. He later put an exclamation point on his performance with a crossover jumper with 15 seconds remaining to put the Illini back up by five and seal the victory.
The Illini come into this game powered by the red-hot Kofi Cockburn, the B1G Co-Player of the Week who is in the top five nationally in both points and rebounds, ranking fourth in scoring at 22.5 ppg and third in rebounding with 12.5 rpg. Cockburn is the only player in the top 15 in both categories. The last Illini to average 20 & 10 was Nick Weatherspoon in 1973 (25.0 ppg, 12.3 rpg).
At 12.5 rpg, Cockburn is on pace to record the third-best rebounding season in Illinois history and the most by an Illini since Skip Thoren's single-season record of 14.5 rpg in 1965. Cockburn's scoring average of 22.5 points, meanwhile, currently ranks fourth-best in school history and the most since Nick Weatherspoon averaged 25.0 ppg in 1973. Kofi>has had four-straight 20-point, 10-rebound games, six on the season, and 14 for his career and 37 career double-doubles, most in the NCAA among active players since 2019-20 and four shy of equaling the Illinois all-time record.
Three questions
Question #1 - Can Illinois get any of the freshman experience during conference play?
In Illinois' most recent game versus Maryland, the game was close up until about the last five minutes. This was primarily due to foul trouble which kept Kofi Cockburn on the sidelines. Subsequently, that led to a shortened bench and less minutes to the three freshmen on the roster.
In this matchup there should be more flexibility in lineups allowing an opportunity for one of the freshmen to make an impact. This isn't to say any of them will be able to make the rotation permanently, but it's always good to build confidence for the younger players. This could also benefit Illinois if they deal with foul trouble again and need to dig deeper into their bench.
Question #2 - Will Illinois' defense be able to contain Nebraska's Alonzo Verge, Jr. and Bryce McGowens?
Illinois had a rough start to the season defensively, but they've really started to hit their stride during the last four games. This game should provide an opportunity for them to continue to build confidence on the defensive end of the court. Their game plan against Nebraska should revolve around stopping Alonzo Verge, Jr. and Bryce McGowens as they are the only two Cornhuskers good at creating their own shots.
Most likely, Verge will be guarded by Trent Frazier and McGowens by Da'Monte Williams. Of the two, McGowens looks to be the tougher matchup – he is 6'7" and can stretch the floor from deep. He only shoots 24.7% from the three, mostly due to questionable shot selection and lack of weapons around him which forces him to take tougher shots. If Verge and McGowens both struggle, Illinois should be able to keep this team well below their 74.1 points per game average.
Question #3 - How can the Illini improve when Kofi Cockburn is off the floor?
It's safe to say that Illinois' is most challenged when Cockburn is off the floor – especially on the offensive end of the court. It's unreasonable to expect that Omar Payne is going to be able to make up for Cockburn's production offensively, so for these units to make the same type of impact, the offense will need more perimeter shot production. It's clear that until Curbelo's return, someone needs to step up to fill the void.
The two players that could most likely step up are Coleman Hawkins and Trent Frazier. Hawkins needs to be more aggressive at finding his own shot, not only when Cockburn is out but at all points of the game. Frazier, on the other hand, should realize that the personnel on the court will look to him to be more of a go-to guy in Cockburn's absence. Working out these kinks now could prove to be pivotal as all it will take is one bad ref for Illinois to lose out later on in the season.
Prediction: Illinois 75 – Nebraska 58
This will be the last "gimme" game for the Illini before a much-anticipated competitive stretch in their schedule. While Illinois will be favored, they still need to take this team seriously as Nebraska has unexpectedly played some teams to close games when playing at the Pinnacle Bank Arena.
Nebraska is arguably the worst Big 10 team, and Illinois needs this win to keep pace in the Big 10 title race. Should Illinois not bring their "A" game, they should still be able walk away with a win. If they do bring their "A" game, then this should be a Missouri-like beat down.