Connor Cagley, IlliniGuys Basketball Writer
February 19, 2022
(Cover photo courtesy Daily Jefferson County Union)
Essentials
SERIES NOTES VS. MICHIGAN STATE
All-Time Record: Michigan State leads 64-61
Streak: Illinois W-1
Last Meeting: #24 Illinois 56, #10 Michigan State 55  (1/25/2022 at Champaign)
Record at East Lansing: Michigan State leads 40-20
Streak at East Lansing: Michigan State W-4
Last Meeting at East Lansing: Michigan State 81, #5 Illinois 72  (2/23/2021)
Underwood vs. Michigan State: 2-5
The No. 12 Illini travel to the Breslin Center to finish its stretch of four out of five B1G games on the road on Saturday against No. 19 Michigan State (11 a.m. CT, ESPN). The Illini have a tough venue to try to avoid a second straight B1G loss. The Fighting Illini have lost four straight games at Michigan State and are looking for the first win in East Lansing since 2015.
Illinois is 2-3 versus ranked opponents this season with both wins coming at home, against then-No. 10 Michigan State on Jan. 25 and then-No. 11 Wisconsin on Feb. 2. As Brad Underwood rebuilds the reputation of the Illini basketball program, the Illini have won nine of its last 13 games against top 25 teams. Their 11 wins against Quads 1 and 2 teams are tied for seventh most in the nation.
Illinois has 11+ Big Ten wins for a third-straight season. The Illini last achieved that as part of a seven-year streak from 2000 through 2006. Even more impressive, Illinois is one win away from its 12th Big Ten victory. The Illini are aiming to win at least 12 B1G games in three straight years for just the third time in school history, joining the 1951-53 and 1987-89 stretches.
After a soul-crushing Wednesday night loss against Rutgers, Illinois looks to bounce back in a Saturday matchup against Michigan State. They will attempt to get the win to challenge for the Big 10 title, but it won't be easy getting this victory, let alone catching up to Purdue who has a half game lead and an easier remaining schedule.
This road game against Michigan State will definitely be an obstacle for the Illini. With the way Illinois has been shooting recently, it becomes even more dicey against this Michigan State team who also has their back up against a wall.
On Tuesday night, the Spartans were upset on the road against Penn State, and they will come into this game motivated by an unhappy Tom Izzo who is likely still feeling the sting of that loss.
Two Questions
Question #1 - With underwhelming play from the wing, will Coach Underwood look to switch the starting lineup?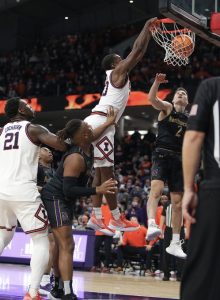 Midway through last season's conference slate, Coach Underwood inserted Jacob Grandison into the starting lineup in lieu of Da'Monte Williams. Grandison started 16 of the last 17 games as the Illini won the B1G tourney and should've won the B1G regular season conference championship to close out the season. Unfortunately, with injuries and COVID during this season, the Illini have not had the stability to allow them to build momentum or find rhythm in their lineups. With such a crucial stretch of games coming up, the pressure to find their optimal lineup is increasing.
Underwood has shown a willingness to stick to his guns in playing Grandison and Williams, but their play has not lived up to what is needed in those positions. It's clear he likes the spacing from the three-point line, but if they continue on their cold streak how much longer will he be able to justify sticking with them?
If things don't go well in this game against Michigan State, it may be time to insert either Ramses Melendez or Coleman Hawkins. One could make an argument that the freshman, Melendez, should be the choice, given his recent play and energy, but both of these larger younger players offer an upside that the seniors just aren't physically able to match. Can they play with the intensity that Underwood desires, particularly when it comes to the defensive end of the floor and when it comes to hunting the basketball for rebounds?
Question #2 - Which team will be successful in slowing down the opposition's star players?
Often in a game of basketball, the final result is driven by whose star players perform better. The part of this equation that's often overlooked, however, is the value of a game plan and the execution thereof in slowing down said star players. Most would describe Illinois as a team that relies on one star – Kofi Cockburn – however, Trent Frazier and Alfonso Plummer have also played like stars for stretches of the season.
With Cockburn, the key will be staying out of foul trouble, as he does Illinois no good while sitting on the bench. That aside, there are generally no worries about him putting up a star performance. Frazier and Plummer, on the other hand, need to play well for the Illini to have a chance. Simply said, they need to make a high percentage of their shots from the perimeter. Illinois needs the spacing they provide when they are making shots and, furthermore, it seems they give better effort on the defensive side of the ball and on the glass when shots are falling. The same could be said about Cockburn as well, although some of his lack of intensity at times on the defensive side could relate to him not knowing what will be called a foul on a play-by-play basis due to the inconsistency of B1G refereeing.
On the other end of the court, Michigan State is one of the more balanced teams. The two players that have stood out to this point are Malik Hall and Gabe Brown. Both standing at 6'8", they will be a tough matchup for this Illinois roster. Guarding bigger wings is an area where the Illini team has struggled. How Illinois decides to matchup with these two will be in large part related to Underwood's strategy for lineup changes. If the veterans can't cut it, it will be tough to rationalize why they are on the court.
Prediction: Illinois 70 – Michigan State 71
In a game where both teams desperately need a win, only one of them will walk away with one. Considering how the game was called last year in East Lansing, it's reasonable to expect Illinois will not be on the right side of the whistle. For a team that relies heavily on jump shots and post-ups for Kofi Cockburn, the Illini will have to be shooting well for this to result in a victory.