By Kedric Prince – IlliniGuys.com Director of Recruiting
July 13, 2021
For the second straight week, Illinois adds a dynamic guard to their 2022 recruiting class. After missing on several transfers in recent weeks, the high school market remains hot for Illinois. Assistant coach Chester Frazier once said, "This is Illinois, one of the elite programs in the country. We're looking for tough kids who want to be here and help us win championships."
Today, 4-star guard Jayden Epps pledged to the orange and blue, after another 4-star guard - Sencire Harris from Akron, Ohio - gave his commitment last week.  The 6-foot-1, 180-pound guard from Suffolk, Virginia is a top 60 prospect nationally and a prospect who many consider to be one of the toughest players in the entire class of 2022.
Why Illinois: Epps Says - "Illinois is a great school. I have a great relationship with the coaching staff. Me and Coach (Chester) Frazier and (Coach) Underwood have a great relationship. I loved the campus and it's an overall great school. I just feel like it's a great fit for me."
Other offers included Arkansas, Connecticut, Florida, Kansas, NC State, Pitt, Providence, Virginia Tech, Maryland, Penn State and St. Louis.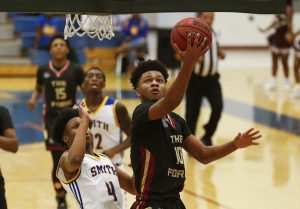 Kedric's Assessment:  Jayden Epps was on Illinois radar from the first day assistant coach Chester Frazier took office. Epps is a clone of Frazier with his mental toughness to the game, but Epps is much more offensive minded. Epps has play-making ability to make those around him better and oftentimes forces his teammates to elevate their game. He is a matchup nightmare because once he is able to get past his defenders and put them on his hip, he will score in traffic, either hand, dunk, make the play for a teammate and put them in the easiest way possible to score. Epps does not show emotion; he is fearless. This is a big-time recruit for Brad Underwood and the Illini.
Sturdy's Breakdown:  Epps is a dynamic guard that can really score it and is now becoming a true playmaker. He can shoot it, but his passing is also excellent. His passes were on time and he made good decisions. He is an excellent finisher, especially at his size. He's also very good at moving his feet defensively and is very disruptive.
Please follow us on Twitter @KedPrince4 and @sturdy32 .
PrinceKedric@yahoo.com