New Illinois head coach Bret Bielema's has high hopes that his "Football 101" classroom experience will produce a smarter and more attentive player in game situations.
By Matt Stevens - IlliniGuys Football Writer/Analyst
July 20, 2021
CHAMPAIGN, Ill. -- Bret Bielema has made it clear that in order to change the current losing culture of Illinois football, you must first identify the problem.
The new Illini head football coach is intent on seeing a program that has had just nine winning seasons since 1986 lose fewer games simply due to mental errors. Enter Bielema's teaching of what the 12-year head coach veteran calls "Football 101" of what allows for a winning behavior and more specifically, identifying causes of losses.
"It's a simple idea but it's also not preached nearly enough that most of the time, more games are actually lost than won," Bielema said during the program's media recruiting tour last month.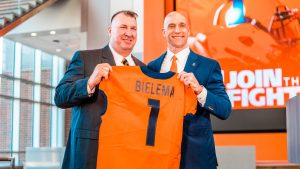 During his time at Wisconsin, Bielema would host a version of these classroom "Football 101" exercises specifically for women to learn his philosophies of football by paying a fee to "learn the basics of the game in a relaxed setting and experience Badger Football first-hand" with all proceeds going to Susan G. Komen Foundation to cure breast cancer.
The three principles Bielema has said he'll construct the newest edition of an Illini rebuild, the program's sixth iteration since 1997, with "tough, smart and dependable" players and part of the intelligence component of that is understanding immediately the concepts of time, score, field position and the consequences of not executing during critical situations.
Therefore, during a recruiting official visit inside the Smith Family Football Center, with families of recruits sitting in the team meeting room chairs where his players occupy during the season, Bielema begins implementing his program's basic principles before the recruit has even enrolled at the university.
"I think it's good because right when he says (Football 101), you know you're probably going to learn something that you've never heard before," Illinois sixth-year center Doug Kramer said. "Every single team meeting, I'm definitely learning something new."
Bielema will sometimes speak to why turnovers are critical to winning at every level of football. Over the last two full seasons of college football at the Football Bowl Subdivision level (2018 and 2019 seasons), 14 teams finished the year with a turnover margin of plus-1 per game or better. Only one of those 14 teams won less than eight games in that season (2018 Kansas with an 3-9 overall record) and 11 of them finished with a double-digit win total.
In 2019, Illinois' first bowl appearance in five years can almost directly be pointed to former head coach Lovie Smith's insistence of valuing possession of the football and the defensive coach's importance of the takeaway, which Illinois led the Big Ten Conference with forcing 28 turnovers by its opponents.
During the media recruiting tour of the Smith Family Football Center, Bielema put up a slide of a graphic addressing a basic understanding of how field position affects scoring. It's a concept he's already addressed with the entire Illini spring football roster during one of the several team meetings via Zoom video conferencing. Using analytical statistics gathered over a decade of college football games, Bielema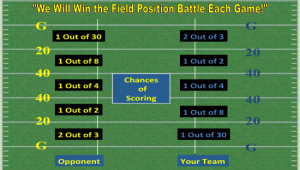 shows how certain plays inside a certain zone of the field either For example, if a team has the football between its own 1-yard-line to the 20, their chances of scoring points is one of every 30 possessions. However, if you have the football from your own 20 to to your own 40-yard-line, the odds of that team scoring points increases to one in eight drives, an increase of at least nine percent.
Bielema calls these "Football 101" sessions an entry-level classroom setting to his philosophy of football that, like all the other successful coaches in every sport, are stolen ideas from other coaches along his career - including those at much less notorious settings such as the Friday night lights of the high school level.
The field position chart, which is pictured in this piece, is similar to a field position graphic made famous by Kevin Kelley, a successful high school head football coach finding for 17 seasons at Pulaski Academy in Little Rock, Ark., that intersected with Bielema being the head coach of the Arkansas Razorbacks program. Kelley, who is starting his first season at Presbyterian College in the Football Championship Subdivision level, is notorious for using analytical data to explain logically why he preaches that his team very rarely punts on fourth down, consistently attempts onside kicks and allows goes for a two-point conversion.
For example, Kelley, who cites his analytical philosophy from a study done at Harvard University, suggests even if your team is facing a fourth down on your own 5-yard-line, the chance of your opponent scoring points after you don't convert the fourth-down conversion attempt is 92 percent. By punting, on average, your opponent will have the ball on the 40-yard-line and still have a 77 percent chance of scoring points. So, the risk of going for the fourth down conversion is almost nullified when you compare to gaining on average just 15 percent better odds of your opponent scoring anyway.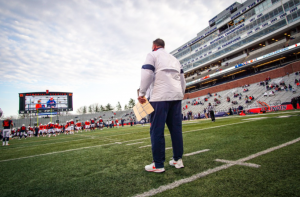 Bielema has been quoted in the past about being a student of Kelley's football philosophies despite not implementing all of his teachings within his Power Five Conference programs. Kelley has maintained a professional relationship with Bielema's former boss, New England Patriots head coach Bill Belichick, and his use of analytics struck a chord with Bielema while he was trying to run an opposite philosophy of Kelley's in terms of offensive tempo with the Razorbacks.
"A couple years ago, I watched the 'Moneyball' movie and I was very intrigued by the use of numbers against traditional thinking and the results they got with them," Bielema said in 2016. "There are some philosophies in high school football that I believe will transcend into the college ranks and maybe even into the professional ranks."
Finally, Bielema will give a real life example to his lesson so his players understand how their losing mentality, which has caused the fifth-year seniors on this roster to experience a 17-39 overall record and just 10 wins in the Big Ten, manifested itself in what might be considered an unmemorable play.
In the 31-24 loss to Purdue in the 2020 home opener, Bielema showed film of a 3rd-and-5 play from the Boilermakers 10-yard-line as a critical reason for the Illini loss. The dropped swing pass from Coran Taylor to tailback Mike Epstein, where the Illini veteran tailback would've likely at least picked up the first down, may have come in the second quarter but at that moment forced a field goal attempt and was what Bielema calls "a four-point play" because it resulted Illinois disqualifying itself from a touchdown instead of just the three points they received on that drive.
With two minutes left in the game, Illinois was down by seven points and converting that simple swing pass from nearly two hours of real time forced the Illini to go for a fourth down conversion at the Purdue 15-yard-line instead of setting up a game-tying field goal attempt.
"For us, the young (freshmen) sitting in these chairs you're sitting in right now, in their 18 years of their lifetime, they've only had four winning seasons," Bielema said. "That's hard to overcome. They've had to watch 18 years of Illinois not having success. They need to understand why those things have happened and it's about doing the little things correctly."