Mike Cagley, IlliniGuy
December 23, 2021
The Illini demolished the Missouri Tigers in St. Louis tonight on their way to an 88-63 victory that could've been much wider if Coach Underwood had kept his foot on the accelerator in the form of keeping Kofi, Plummer and Frazier in the game. The three headed dragon scored 25, 22, and 15 respectively as the Missouri Tigers had no real answers for an Illini offense that shot a red hot 50% from the field in the first half and a supernova-like 64% from the field in the second half.
The Illini look to have ironed out many of their issues that left the team looking out of sync earlier in the season with the easiest solution in the world - practice. The team moves the ball better on offense, defends the pick and roll better on defense and rotates to help teammates on defense much better than even two weeks ago.
Coach Underwood said he needed a healthy team and practice time. Mark that down in the books as one of the great understatements. This team is performing at a high level as they look for one more tune up - against Florida A&M next Wednesday before re-engaging with the B1G starting on January 2nd at Minnesota.
Heat Check #1 - The Three Headed Dragon is Officially a Thing
The scoring trio of Kofi Cockburn, Alfonso Plummer and Trent Frazier struck again.
Kofi scored 25 points on 9-15 shooting and 7-10 free throws. He added an Illini Braggin' Rights record 14 rebounds and an assist to go with 2 steals.
Alfonso Plummer scored 22 points on 8-12 shooting. Plummer went 3-5 from the three-point line but missed his first free throw of the year as he went 3-4 from the free throw line. He added 3 assists and 3 rebounds to his scoring totals.
Trent Frazier scored 15 points on 6-10 shooting. Trent was 3-7 from the three-point line with 2 critical threes and an assist on a Plummer three at the beginning of the second half that effectively ended the game as a competitive athletic event.  Frazier also had 2 rebounds, 3 assists, 1 steal and no turnovers despite handling the ball against an aggressive Missouri defense.
This three-headed beast has been enough to cause defenses migraine level headaches as to how to stop, or at least slow down, this deadly trio. These headaches materialize in the form of open shots for the rest of the team. The rest of the team shot 3-8 from the three last night. They had open shots and that was due largely to the efforts and focus of the defense being on keeping Kofi, Alfonso and Trent in check.
What could things be like if someone like Andre Curbelo were to return with his ability to drive the ball and kick out to open shooters? Let's hope Curbelo feels better sooner rather than later.
Heat Check #2 - Kofi's Improvements are Becoming More and More Noticeable
Kofi has been diligently improving his skills. Coach Underwood has commented on how hard Kofi has been working. Compliments from a tough coach are great to receive. Even better are results that can be seen with the naked eye. Kofi faked a pass tonight and used the defenses response to the fake to create space for Kofi to score. He didn't stop there, he also hit 7 of 10 free throws. He contributed an assist and a steal to the team's efforts. Last year, he had 5 assists all season, this year, Kofi already has 10. When a player makes one more pass (after receiving a kick out pass from Kofi) to an even wider open shooter, Kofi doesn't get credit for an assist, but without his kick out pass from the post, that assist could never occur.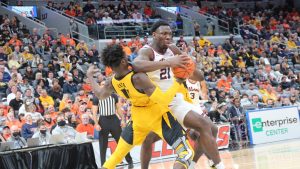 When it comes to free throws, Kofi is hitting 69% from the line. This means that no longer can teams foul Kofi late in the game banking on the fact that he will miss one or both free throws and provide them the advantage they need to get the ball back with reduced Illini scoring on each possession. Kofi has improved his game vastly.
Last night he even went out and played defense on the perimeter. I would guess the shrewder NBA GMs are watching. The way Ayo has exceeded expectations has to help Kofi's case as well.
When a player improves in such a dramatic fashion it can help a team elevate it's play. When it's the player that the offense goes through each time down the court and this player now forces the defense to defend the whole team, it makes the offense much more lethal. If the defense chooses to guard Kofi one-on-one, it's tough for any player to stop him from scoring. If they double down on Kofi, he can now hit his open teammate for an uncontested jump shot. Teams that shoot open jump shots win basketball games. Kofi's improvements make sure that the open jumpers aren't a scarce resource.