Mike Cagley, Co-Host IlliniGuys Sports Spectacular
December 19, 2022
It has been a hectic week for Illini sports. Over on the football side, the Illini have seen former defensive coordinator Ryan Walters earn the colossal promotion to the head coach of another Big Ten team without any prior head coaching experience. Usually, the way this is most often done is to move up within the same school – as Ryan Day did after Urban Meyer left the Buckeyes.
On the basketball side, the Illini came back to easily defeat the Alabama A&M Bulldogs 68-47. While the score says it was a 21-point victory, the execution of the victory wasn't as aesthetically pleasing to fans as the Illini were only up 38-37 with 10:54 left in the second half. The Illini finished strong but the journey to get to the win rattled some fans.
Heat Check #1 – Brad Underwood has a Mike Ditka Problem
Watching the Big Ten Network's (BTN) broadcast of the Illini game against Alabama A&M, one thing became clear to me. BTN appears to have a camera trained on Illini head coach Brad Underwood any time there's even a remote chance that the Illini coach might get angry about a call or a play on the court. If the referees make a call that has potential for controversy, we get a shot of Underwood. If an Illini player makes a play that isn't a good one, the camera pans to Underwood. If there is a timeout, the on-screen image moves to Underwood.
Brad Underwood has a temper (most coaches do) and he is a guy who's got a bit of a flair for the dramatic. If you don't believe me, check out videos of his press conferences on IlliniGuys.com. Coach has a flair for comedic timing and is excellent at using pauses, facial expressions and even the rare sound effect to make his point – usually in a humorous fashion. Just about everything listed above could be said about former Bears head coach Mike Ditka as well.
In a throwback to Mike Ditka and CBS Sports (who had the NFC contract during Ditka's heydays back in the 80s), BTN has now decided that Brad Underwood's intense moments make for good television. If Coach Underwood is visibly upset for two minutes a half, all 120 seconds will be televised on the broadcast. There will not be a timeout that is undocumented visually as there is a huge opportunity to show "timeout highlights" upon returning from a commercial. The issue is if viewers aren't careful, the start to think Coach Underwood is angry all the time. Reporters at courtside and fans attending games live know that isn't the case at all. Television fans will have a totally different picture of Coach Underwood.
I am not certain of a solution for this problem for Coach Underwood. Fran McCaffery gets similar treatment. His meltdowns are legendary, but I'm not certain that he has any more outbursts than the average coach – but the networks that broadcast college basketball are always certain to capture each moment and show it to their audience. It appears that Coach McCaffrey loses control more often than other coaches, but does he? Coach Underwood needs to be aware of this focus of BTN/broadcasting networks on him as an in-game storyline as no one wants to be the modern-day Bobby Knight or Gene Keady.
Somehow, Tom Izzo gets angry, but BTN and other broadcasters don't choose to show him so often. One wonders how that happened? Maybe Coach Underwood and Coach McCaffrey should call Coach Izzo to better understand what the solution is.
In the 80's, when the culture of an America was different, that "tough guy" image played better than in today's world. Nowadays, that image can be a challenge in some quarters. It might be better for BTN to determine if any coach making a face makes a difference in the game - or is an expression/outburst just "empty calories" for the television viewer to consume to fill a few seconds of the two-hour broadcast?
Hail Mary #1 – Aaron Henry is the new Fighting Illini Defensive Coordinator
The fantastic performance of the Illini defense under Walters, especially from after the Virginia game last season (a 42-14 loss) through the entire 2022 season, earned him the interview with Purdue. Walters closed the deal with the same attitude and charisma that allows him to get results with his defense. He now runs Purdue's football program. We wish him luck – just not when they play the Illini.
This forced Bret Bielema to decide between Aaron Henry and Kevin Kane (and possibly others) to replace Walters as defensive coordinator for the Illini. Coach Bielema selected Aaron Henry the Illini's defensive backs coach and primary mentor of consensus All-American Devin Witherspoon. Henry is a dynamic recruiter who covers Florida (a talent hotbed) but who hasn't yet called plays for a defense during games.
Kane was associate head coach and outside linebackers coach for the Illini and has assisted Ryan Walters in constructing gameplans. He was a key part of helping Walters get such dynamic results from his defense. Kane came to the Illini from SMU where he was the defensive coordinator under Sonny Dykes.
In this situation, Bielema had a choice between two highly qualified individuals – one with prior experience and the other with the rare personality and a presence that cannot be taught. A key component in hiring is organizational fit. Sometimes, a team looks at what is needed, and one candidate will bring that to the table and add a piece to the puzzle that isn't already there.  Henry was selected and Coach Kane has moved on to Purdue where he will no doubt perform well.
Henry has a style of leadership that is infectious. That's particularly important in sports – and its effects are visible to the players, along with the reporters who cover the team. Henry has had excellent defensive mentors – Bret Bielema, Chris Ash (Rutgers), Dave Doeren (North Carolina State), Derek Mason (Vanderbilt), and Ryan Walters (Illinois), now it's time for him to put it all together as a defensive coordinator running his own show. If Bret Bielema thinks he's ready, I'm willing to take that same leap of faith.
Hail Mary #2 – Schrodinger's Referees – Referees Both Have a Problem and Are the Problem at the Same Time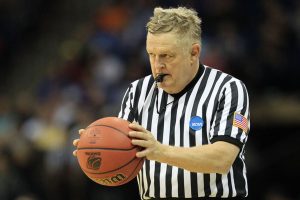 I have written often that the Big Ten needs to spend some of it's estimated $1.3 billion in revenue generated by broadcasting football and men's basketball to protect the game's quality and integrity by hiring those referees to be full-time employees. This would allow for yearlong training and conditioning, eliminate the needs to for referees to officiate non-Big Ten games, and make sure the referees are in the best position to succeed in their role of officiating some of the best athletes in the world. Too often Big Ten referees are inconsistent and at times just plain wrong. They deserve the ability to truly make officiating their career. It shouldn't be an opportunity to be the target of derision.
Many referees have told me they feel I am against them. At times, I can understand why. I am not against them – but the referees must be better. More importantly, the organizations that hire the referees to officiate must be better as well. They must invest in the referees as full-time employees. Now, I will switch sides and talk about a reason why the referees are almost in a no-win situation.
In watching the World Cup Final, it seems that about half of the time, the world's most popular sport is filled with players who are rolling around faking an injury to get a penalty called, complaining to a referee either about a penalty that was called or why a penalty was not called, or just generally trying to influence the referee for the next call that might need to be made.
As an aside, soccer players are the world's worst actors. Here's some advice to aspiring soccer players:
If you're going to roll around holding your left ankle trying to get a call and the penalty card isn't issued, when you get back up – make sure you limp for a while on that left ankle. Don't hop up as if nothing happened. You're insulting the intelligence of your audience and the referees that are officiating the game. You'll never get a call that way. Instead, the limp will help sell the injury and maybe get you a penalty called in your favor the next time an opportunity comes around.
If a player in incapable of elevating up to the level of acting that is routine in the WWE, then he shouldn't try to fake the injury in the first place. Selling an injury isn't hard. Stay in character and limp around for a bit. Embrace the acting role that you've undertaken. Don't stop halfway through your performance. Dedication to the art form matters!
Back to my regularly scheduled column.
If you watch the NFL, it's not much better. Almost on every pass play, you have wide receivers imitating the pulling a flag and throwing a flag motion because on almost every pass play, they believe they were interfered with on their route. Let's not forget the NBA as players routinely flop, can't believe there wasn't a foul on a shot attempt, or can't believe some rules are even being enforced at all (traveling for example).
The athletes are the game and I've argued for years that college basketball has go to six fouls precisely because fans come to see the athletes play, not to watch old guys blow whistles. It may seem like I'm talking out of both sides of my mouth, but I don't want players disqualified due to referee calls, but the players cannot be allowed to continuously take away from the game by jaw-jacking with referees all game long.
At some point, it would be nice for the sports to "reclaim" the culture of the game and get back to players playing and referees officiating. For this to happen, both "sides" need to be on the top of their respective games. The players must be excellent and so too must the referees.
I will not blame a referee for looking at a player who's whining incessantly and kicking them out of a game. Or a coach. It's one thing to have "gamesmanship" with a referee or challenge a call or two, but the endless questioning of the referees really takes a chunk of the fun out of watching sports. I can't blame referees for hating the fact that they must deal with behavior that would never be tolerated almost anywhere else in society. I don't think it would take many ejections to quiet the protestations we've all grown accustomed to seeing.
Now, I will type what I never thought I'd type. After watching the theatre that is the World Cup, I'm ready for some ejections. The fish rots at the head and we're seeing the worst behavior coming from the world's highest paid athletes and it's now leaking down to 3rd grade baseball, basketball, and soccer games.
Let's give the referees some leeway to extinguish the constant protestations. I have one caveat, though. Allowing refs to "clean house" of verbal offenders can only happen if the Big Ten elevates the referees to full-time status. Those two changes would make Big Ten sports stand out even more and increase their already strong ratings.