Mike Cagley, Co-Host IlliniGuys Sports Spectacular
November 8, 2022
This evening featured an impressive debut for the newest iteration of the Fighting Illini basketball team. The Illini cruised past the Eastern Illinois Panthers 87-57 in a game that had little to no drama. The Illini featured two players scoring over 20 points. Terrance Shannon, Jr. with 24 point and Coleman Hawkins with 23. The Illini also had two players with double doubles. Coleman Hawkins 23 points and 12 rebounds along with Dain Dainja scoring 17 points and snaring 10 rebounds. Shannon had an impressive debut as an Illini player including a thunderous dunk in the first half.
The Illini dominated in the first half to lead 46-31. They continued with that same effort in the second half outscoring the Panthers, 41-26. There's something to be said for consistency as Illinois outscored Eastern Illinois by 15 in each half.
Heat Check #1 - Coleman Hawkins Displayed an Improved 3-Point Shot
The mercurial junior displayed his three-point shot and provided a warning to opposing teams that leaving him unguarded outside the 3-point arc is a dangerous choice. Hawkins hit 5-8 from the three-point line which forced defenders to come out on him allowing for better spacing for the Illini offense and creating openings for driving and passing lanes. Hawkins added 3 assists to his totals as well.
Hawkins kept his cool throughout the game and led all rebounders with 12 boards. It was his best all-around game as he set personal highs for points scored and tied his personal high with 12 rebounds. He also had 12 rebounds against Arkansas State in last year's second game.
Hawkins has emerged as a leader of the team and has clearly matured emotionally in the offseason. This was an excellent beginning for his junior campaign as he is now one of the team leaders of this year's Illini basketball team. If you want to hear his interview on the latest IlliniGuys Sports Spectacular, listen here: https://illiniguys.com/illiniguys-sports-spectacular-nov-4-weekend-s2ep12/
Heat Check #2 - Terrance Shannon, Jr. - An Athlete in Action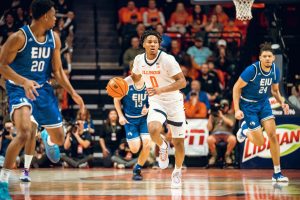 Terrance Shannon showed off incredible athletic moves as he conjured up images of Kenny Battle in the minds of Illini fans. The power with which he threw down his first have slam dunk was enough to shake the water in Illini fan glasses and cups - in a fashion similar to the ripples that the T-Rex in Jurassic Park generated in the movie theatres!
Shannon had a couple of turnovers as he attacked the basket at full speed and full intensity. He was able to generate field goals but even better, he forced contact on his way to the basket and shot a fantastic 13-15 from the free throw line. The rest of the team struggled from the charity stripe, shooting only 5-18 as a team minus Shannon Jr's accuracy.
Shannon plays full speed - again he is reminiscent of Kenny Battle with his high motor. He also managed 8 rebounds, 2 assists, a steal and a block. He set the tone for playing hard, playing through mistakes, and pushing the ball to attack the weaknesses of the defense.
It was an excellent debut to introduce himself to the Illini Nation. He will doubtless be a fan favorite with his style of play and effectiveness.
Heat Check #3 - Dain Dainja's Big Debut
Dain Dainja debuted at roughly 30 pounds lighter than he played at Baylor. He was challenged by the staff to play hard and get rebounds. He played hard, he got rebounds, and he scored points. All in all, a successful day for the transfer playing his first game for the Fighting Illini.
Dainja displayed a soft touch around the basket and nice footwork around the basket, Dainja played well enough to justify the high praise he's been given by the staff to reporters covering the team. He shot 8-9 and even knocked down a 12-foot jump shot. Dainja also corralled 10 rebounds and blocked 2 shots in his initial appearance at the State Farm Center. He has the opportunity to improve his free throw shooting as he was only 1-4 in tonight's game.
For Dainja, 17 points in 16 minutes was an excellent way to prove to himself that he indeed belongs on this team. If he can continue this level of play, the Illini will be much harder to stop for opponents on the offensive end of the court. They will also have the rebounding on the defensive end needed to start the fast break and push the pace that Coach Underwood wants to play.