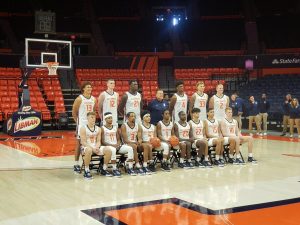 Brad Underwood and the Illinois players met with the media on Friday afternoon to kick off a much anticipated Illinois basketball season. Here are five takeaways from the event.
Expectations are High
Friday was also the first official day of practice and suffice it to say there are high expectations for the coming season. The team and Coach Underwood repeatedly referenced the Loyola loss from a year ago and feel that they could be even better than a year ago if things fall into place. Jacob Grandison mentioned Virginia losing as a 1 seed and winning the national title a year later. Brad Underwood and company are fine with high expectations. Underwood told me, 'We embrace it."
Get Old, Stay Old
This is an old group of players, with multiple players that are 22 and older. Three Super Seniors, a pair of 5th year Juniors, and multiple players with experience. Of the 14 scholarship players, only 3 have not played in college yet and all 9 of the projected starters have played at least one year of college basketball.
"It's something I've always preached," Underwood said. "Now we see what happens."
Space and Pace
Illinois lost Ayo Dosunmu from their #1 seed team a year ago, but this team returns a ton of experience from that squad and much continuity. Dosunmu was a great finisher and great at attacking the rim, especially in transition. Illinois scored 24 points per game in the first 7 seconds of the shot clock a year ago and hope to play even faster this year. The biggest difference is that this team will shoot more 3 pointers and they have the shooters to be even better than a year ago. A year ago they made a high percentage, but didn't take very many. That was something we critiqued on many occasions, but that doesn't look like a problem this season. They are even using a four point line in practice to spread the floor.
Nine Starters
Kofi Cockburn is a returning All American and there are days when Omar Payne Is better than him, especially on the defensive end. Jacob Grandison entered the starting lineup and Illinois proceeded to go 16-2 and then had a great summer playing for the Finnish National team. And yet, there have many days where Coleman Hawkins is the best player at the Power Forward spot. (Hawkins has had a weeklong run where he has been excellent, BTW). DaMonte Williams led the nation in 3 point shooting percentage and has been a starter for much of his career, and yet Austin Hutcherson is often talked about as being the most talented player on the roster. Most would assume that Trent Frazier and Andre Curbelo would be the starting backcourt, but Alfonso Plummer may be the leading scorer in fall workouts. That's 9 players that have a legitimate argument to start and it doesn't include the finally healthy Benjamin Verdonk, who looks like a bodybuilder and has been lauded by the coaching staff as the most improved player over the summer, or any of the highly regarded Freshmen.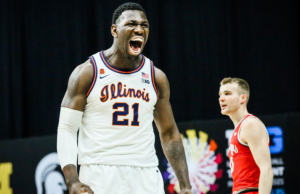 Something Special
Whether it is Chester Frzier and Andre Curbelo dogging each other about Frazier's ability to lock Belo up, Kofi dogging Geoff Alexander as he does a TV interview, or Luke Goode clowning behind the camera for Brandin Podziemski, this group is as loose and comfortable with each other as any team I have seen at Illinois in 17 years, The 'extra' is also special. Whether it's Alfonso Plummer running sprints as part of an individual shooting drill alone in the gym at 8PM on a weeknight or Brandin Podziemski shooting alone in the gym at midnight on a Friday night these guys are going the extra mile to get the wins. That's what can make for a special season.