Connor Cagley, IlliniGuys Basketball Writer
October 29, 2021
The Illini welcome the Indiana (PA) Crimson Hawks to the State Farm Center tonight at 7 pm. The have been picked to win the Pennsylvania State Athletic Conference title for the sixth straight year by the conference coaches. IUP returns to the court after the most of the conference missed last season due to the COVID-19 pandemic. They had a 28-2 record the prior season.
The team returns starters Armoni Foster, a 6'4" junior guard who averaged 19.8 pts per game; Ethan Porterfield, a 6'8" sophomore forward who averaged 10.3 points per game; and 6'1" junior point guard Dave Morris, who averaged 9.5 pts per game. The IUP team will welcome two classes at once to the court as the 2020 class consists of four players who would've been freshmen last season and 3 more who will be freshmen this season as well.
This team will have a bit more size than St. Francis (IL) with IUP featuring 6'10" junior transfer Ousmane Diop along with 6'8" forwards Porterfield and IUP's Chicago connection, 5th year senior Tommy Demogerontas from Carl Sandburg HS in Orland Park, IL.
3 Questions
Question #1 - Can Kofi Get Into Rhythm with the Newcomers on the Team?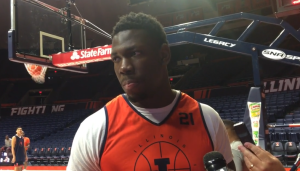 Kofi hasn't had much game time experience with Plummer, Payne or Hutchinson, which isn't surprising as they are newcomers. At the same time, there is a chemistry that he has to build while he can. Expectations are high for the team this season and the B1G has several key contenders that the Illini will have to play as a coherent unit to defeat - Purdue, Michigan, Indiana and Ohio State to name a few. All have quality bigs that could give Kofi issues if he's not playing in concert with his teammates. With Plummer and Hutchinson being reputed three point snipers, Kofi needs to look for these two. There will be many times when Plummer's or Hutchinson's defender may be forced to dig down on Kofi on the double team. Kofi needs to find them and allow these two to use their shooting skills. This will also help answer questions that the NBA has about Kofi's ability to pass out of the post.
Question #2 - Will There be an Expanded Role for Curbelo and Hawkins When on the Floor?
Both Curbelo and Hawkins are expected to make big jumps this year.  More playing time means more opportunities to show off the work they've put into the off season. Based on what we've heard about practice, Coach Underwood expects to get more more out of each player. Curbelo needs to control the turnovers - even while trying the thread the needle passes that he is famous for. Curbelo will also try to impress NBA scouts that he has extended the range of his jump shot. One thing is clear, Curbelo isn't lacking for confidence to take control of this team and make it his own.
Coleman Hawkins looks to have improved his three point shot dramatically. The question is will he be a threat to score when he handles the ball? He doesn't need to defer to Curbelo and Kofi the way he did Ayo and Kofi last season. He has the skills to finish on his own. He needs to use what he has practiced in the offseason to cash in on the opportunities he gets.
Question #3 - Can One of the Freshmen Players Make a Good Impression on the Coaches
While much of the rotation seems to be set, with Kofi, Hawkins and Payne in the frontcourt; Plummer, Frazier, Curbelo in the backcourt; and Hutcherson, Grandison and Williams on the wing -  there may be an opportunity for one more player to make this a ten deep rotation. This means the freshmen are be playing for that one spot. Whoever proves to the coach that they can be a positive on both ends of the court should have the opportunity to earn minutes this year. While it may not be huge minutes, it could be similar to the minutes that Coleman Hawkins earned last year for the #1 seed Illini. At minimum that should set them up as a player who gets minutes on the wing when Grandison and Williams if both decide to move on after this season.
My guess is how well this player spaces the floor when they are trying to play with Curbelo and Cockburn is key. If any one of the freshman can separate himself from the other two will be an excellent story to follow as the Illini move through the non-conference schedule.