IlliniGuys.com Staff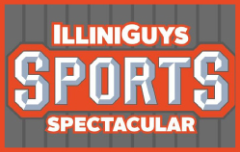 November 12, 2021
After three months on the air, the IlliniGuys Sports Spectacular radio show just got more athletic, a lot younger, and much more handsome!
The Guys are thrilled to announce that Fighting Illini veteran Da'Monte Williams is joining the team, beginning with the 13th episode, which airs this weekend on more than 20 stations across the Midwest, including WLS in Chicago and KFNS in St. Louis, Missouri.
"I'm really excited to be here", says Williams on the show.  "I'm looking forward to the opportunity."
Williams is a "super senior" on the Illini basketball squad, taking advantage of a one-time rule that granted players an extra year of eligibility if they would like a "do-over" from last season when fans were prohibited from games during the regular season.  He led the nation in 3-point shooting last season and remains one of the most important pieces to a team that finished 24-7 and won the Big Ten tournament championship last March.
The Peoria native will join the Guys each week to give listeners a unique perspective as the team vies for the program's first NCAA championship.
"'Monte' has been one of my favorites even back when he was being recruited by Illinois while still in high school at Manual", said Sports Spectacular co-host Brad Sturdy.  "He has a great personality and is just a super guy.  Mike and I like to cut up and poke fun at each other during the show and I can already tell Da'Monte is going to fit right in.  It's a great add for us and we are lucky to have him!"
Sturdy is joined by co-hosts Larry Smith and Mike Cagley on the 2-hour weekly syndicated show.  A list of stations and air times can be found here:  https://illiniguys.com/radio/