New Illini coach Bielema can't wait for a packed August debut
By Kirkland Chappell - IlliniGuys Football Contributor
June 12, 2021
Let's all take on a blast from the past for a moment. When was the last time any of us have been to a 100% capacity stadium, concert, or festival? When was the last time, you set up the lawn chairs, got out your mini-grill, tailgated for hours, had a couple adult beverages (responsibly of course), and now it's time to go in? The building excitement almost gives you chills. Luckily we don't have to think much harder for that answer.
On Friday, Illinois Governor J.B. Pritzker announced that the state will advance into its fifth and final phase of the Illinois/CDC "Restore Illinois"  COVID-19 plan.  In other words:
Festivals, concerts, and stadium sports can now return to maximum capacity crowds.
Yes!!!!
With that being the case, Bret Bielema's 2021 squad could match skills with Nebraska in its season opener in front of a sold-out Memorial Stadium crowd.  Man, wouldn't that be cool? The new Fighting Illini football coach thinks so.
"We couldn't be more excited for the opportunity for us as a football program, but most importantly for our fans" says Bielema.
August will mark the end of a journey for Bielema. After losing his job at Arkansas, the veteran coach spent a couple of years on NFL staffs, waiting for the opportunity to get back into the college game. I can only imagine what the thought of kicking off the college football season on week zero before a sold out crowd feels like for Bret.  Illini fans
As Bielema stated previously, he's not only excited about this opportunity for himself and his program, but he's mostly excited for the fans. After the announcement of the opening of single season ticket sales, it was quickly revealed that Illinois fans were just as excited as their new head coach.
"We've already sold 70% of the tickets for the opening game" says Bret. Let me reiterate this. 70% of tickets to the Illinois versus Nebraska home opener were sold just hours after the announcement of full capacity. This is an Illinois team that has not sold out Memorial Stadium since September 10, 2016 vs North Carolina in Lovie Smith's first season as Illini head coach.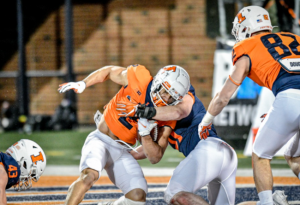 "Season tickets sales are up the highest in a decade" says Bielema. I guess the excitement does not stop at Nebraska.  So not only have the Illini closing in on a sold out home opener, but they have set themselves up for nice crowds the entire season. This can be huge to the success of a football team. Bringing that home crowd advantage to Memorial Stadium can only help the chances of pulling out tough wins on what I believe to be a pretty winnable schedule for the upcoming 2021 season. Larger crowds help with recruiting as well. This also proves that weathered fans, who have had to deal with the turmoil that is Illinois football over the last decade, are excited about the new regime and the hope of an Illini football turnround.
What better timing too. The end of a pandemic that has kept us in our houses for nearly a year and a half finally comes to a near close. Just in time for summer training and the build up to week zero.
If I were you, I wouldn't hesitate to buy those tickets. As soon as I logged off the press conference, I went straight to the Illini Athletics page and purchased two tickets for my girlfriend and I. I have to imagine many other people are thinking the same thing. Be a little part of that history and come enjoy the festivities. We as a state, and as a nation, have earned it.
I know one thing - we've waited way too long for this - and personally I'm on the same page as Coach B.. I couldn't be more excited.