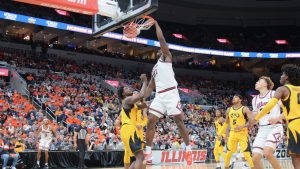 From University of Illinois Division of Intercollegiate Athletics
Champaign, IL– Illinois junior center Kofi Cockburn has been named Big Ten Player of the Week after his dominating performance vs. Missouri.
Cockburn recorded game-highs of 25 points, 14 rebounds and two steals in just 29 minutes, leading the Fighting Illini to a 25-point victory over Mizzou and helping the Orange and Blue reclaim the Braggin' Rights trophy.
Cockburn's 14 boards were the most by an Illini player in the 41-year history of the Braggin' Rights game.
It was Cockburn's fourth game this season with 20+ points and 10+ rebounds. It also marked his seventh double-double in nine games.
Cockburn is the only player in the top five nationally in both scoring and rebounding, averaging 21.8 points (fifth) and 12.1 rebounds (third) so far this season. He also is one of just two players in the NCAA averaging at least 20 points and 10 rebounds.
This is the second Big Ten Player of the Week award of Cockburn's career (Nov. 25, 2019).