Illinois head coach Bret Bielema has high expectations for Isaiah Williams as the highly-coveted St. Louis athlete adapts from quarterback to wide receiver.
By Matt Stevens - IlliniGuys Football Writer/Analyst
July 23, 2021
INDIANAPOLIS -- Isaiah Williams' head coach is certainly not lowering the expectations for his transition from quarterback to wide receiver.
Bret Bielema, who enters his first season at Illinois, couldn't contain the excitement with his comments about Williams as he attempts to be a main target in the passing attack of new offensive coordinator Tony Petersen and led by sixth-year quarterback Brandon Peters.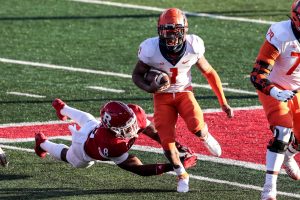 "I think we're getting really a five-star type receiver that instantly brings great ball skills," Bielema said.
Bielema referenced Thursday Williams' recruiting process when the 2018 and 2019 Missouri Gatorade Player of the Year was trying to make a college decision. Williams was projected as a four-star talent by 247Sports.com, Rivals.com and ESPN.com and that ranking obviously saw several College Football Playoff contending programs such as Alabama, Ohio State, Clemson, Oklahoma and Auburn offering the St. Louis native as a wide receiver or defensive back. By Bielema's logic, by convincing Williams to make the transition to slot receiver before the end of the spring practices, Illinois has obtained a highly-recruited talent at his more natural position.
"The first 10 minutes of practice, I caught a look out of the corner of his (Illinois wide receiver coach George McDonald) eye. He just looked at me like, 'This is a very special player,'" Bielema said.
Williams' goals for the upcoming 2021 season are admittedly high despite the fact he's arguably one the least experienced players in the Illini receivers room that is expected to have 13 scholarship players in it.
"I want to be a leader of this team," Williams said. "I want to start. I want to make All-Big Ten. You name it, I want everything. I'm not switching just to be average."
In just a matter of months the Illinois receiver room has transformed by the movement of Williams and one-time, highly-coveted athlete Marquez Beason. Earlier this week, Illinois announced Casey Washington, who has eight starts over the past two years, was officially back in the Illini program after entering the transfer portal and agreeing to join Wake Forest this past spring.
With players expected to report to Champaign on Aug. 1 and practices set to start the following day, Illinois' early depth chart at receiver appears to Miami (Fla.) transfer Brian Hightower, Washington, Notre Dame transfer Jafar Armstrong and Missouri transfer Khmari Thompson pushing for outside receiver reps. Williams and 5-foot-11 junior Donny Navarro are expected to see a lot of playing time in the slot positions.
Williams, a 5-foot-10 and 180-pound athlete, has four years of eligibility remaining and the plan by Bielema, Petersen and the rest of the Illini staff appears to be to get him the football as much as they can in multiple different ways. The obvious comparison to what Illinois is trying to do with this transition is develop in four years what Ohio State only had one year to complete with quarterback-turned-wide receiver Braxton Miller in 2015.
"I know my best days are ahead of me," Williams said in June. "I don't know what's coming next, but I'm going to be ready for it. I'm really just one of those guys that keep working hard and eventually good days are going to come. That's just how I took this."
Bielema, who has had multiple cases of success with positional changes that include moving J.J. Watt from tight end to defensive end, cited Williams' knowledge of offensive concepts and being able to develop an instant connection with a quarterback.
"Just think about this, he's been studying defensive backs the last three, four years, and now all of a sudden, he's playing receiver. He's got a built in advantage over other players," Bielema said. "Then it's just the way he's wired, man. He's just extremely talented, extremely competitive. He's blessed incredibly well with athleticism and skill sets."