By Larry Smith/IlliniGuys.com
We've been down this road before.  Star Illini guard Ayo Dosunmu...making the announcement that he will enter his name into the NBA Draft.
But this time, it's for good.
The 6'5" consensus first team All-American made the announcement on ESPN's "The Jump" Tuesday afternoon.  Looking very dapper in a black suit and matching tie, Dosunmu made official what Illini fans have known all along.
Dosunmu probably would have stayed in the draft last year had it not been for the pandemic.  But with the NBA's future plans -- like all sports leagues -- uncertain and the draft proceedings pushed back until well after Labor Day, the Chicago native decided it best to return to campus and prove he deserved better the the mid-to-late 2nd round draft status where he was being projected.
It was a smart move.  Dosunmu went from an All-Big Ten guard to an All-American, and pushed conference rival Luka Garza, the Iowa big man who won national player of the year honors in 2020, for the right to be named this season's best player.  While Garza still grabbed most of those awards, Dosunmu broke through and was named USA Today's Player of the Year last month while landing on the first team of every All-America list in the country.
He became the first player since Ohio State's Evan Turner in 2009 to average more than 20 points, 6 rebounds, and 5 assists per game, and his 5.3 assists per game led the Big Ten.  This week, he won the coveted Bob Cousy Award as the nation's top point guard.
More importantly, he worked on improving his game and demonstrated his leadership and skills in real-time game situations.  Dosunmu went from being a 29% shooter from three-point range as a sophomore to 42% this season.  He became known as the "best closer in college basketball" for his penchant for clutch plays and late-game scoring to secure an Illinois win.  And he became the face of a once-proud program that found its swagger again with Dosunmu as its leader; setting a school record for most Big Ten wins in back-to-back seasons and winning its first Big Ten tournament title since 2005.  Illinois enjoyed its best season in more than a decade, going 24-7, earning a #1 seed in the NCAA tournament and getting its first tourney win since 2013.  Dosunmu walks away as the most prolific three-year scorer in school history, surpassing the legendary Nick Weatherspoon.
Dosunmu should have no regrets as he hangs up his orange and blue high-tops and Illini fans likewise should not hesitate in applauding what he has done here.  He announced his decision to play for Illinois in November of 2017, very confidently admitting that his goal was to elevate the home state school to greatness again.  That mission has been accomplished.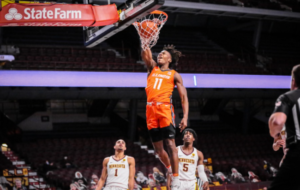 He didn't get the "natty" he talked about on social media last fall, but if Illinois does bring home its first NCAA championship in the coming years, the origins of that process will be tracked back to Dosumnu and that fall evening on Michigan Avenue.  The tall, skinny teenager showing the courage that so many before him could not; taking on a challenge that others had eschewed for years.  His impact on this program will remain long after his first NBA contract has expired.  It's been nine long years since an Illinois player heard his name called in the first round of the NBA draft and almost as long since Illinois was even talked about on ESPN, yet he was center stage on the popular sports network to make his announcement.
Dosunmu's draft status varies depending on the website that tracks these kinds of things; from in the late teens to completely out of the first round.  But those of us who have watched him for three years know one thing:  never count him out.
My prediction?  The lottery portion of the NBA draft has become so polluted with players who could be something great that it's almost not even worth watching.  The vast majority of these players never become All-Stars and fail to even lead their teams to greater success or a spot in the postseason, let alone win a playoff series or - gulp! - become championship contenders.  (Yes, I know the worst teams draft in the lottery.  But the lottery was created in an attempt to make those teams better by giving them the best players.  That no longer happens.)  That pushes smarter veteran players to later in the draft and that's where a savvy NBA general manager will recognize Dosunmu for what he can do today - not what they hope he will develop into (fingers crossed) and will add an important piece to a solid and likely playoff caliber roster.
The Illini program will never be the same.  And we say to Ayo..."thank you and Godspeed!"