Isaiah Williams is now trying to translate the playmaking ability that resulted in him being rated a five-star athlete out of high school to wide receiver.
By Matt Stevens - IlliniGuys Football Writer/Analyst
June 24, 2021
CHAMPAIGN, Ill. -- Isaiah Williams has admitted to himself and his new coaches that the two-year quarterback experiment at Illinois had to end.
What the 5-foot-10 inch, 180-pound athlete won't even begin to cop to is his time as a playmaker for the Illini is over. Quite the opposite. The St. Louis product is convinced his college football career is just beginning. In the midst of his first media availability since his position change to wide receiver, Williams reminded reporters he has four years remaining.
"I know my best days are ahead of me," Williams said in the first in-person media player availability at Illinois in over a year. "I don't know what's coming next, but I'm going to be ready for it. I'm really just one of those guys that keep working hard and eventually good days are going to come. That's just how I took this."
Williams, who in Dec. 2018 became the highest ranked prospect to sign with Illinois since Terry Hawthorne in 2009, turned down scholarship offers from current college football royalty programs such as Alabama, Auburn, Clemson, Ohio State, Oklahoma, Notre Dame, Florida, and Texas for the opportunity to be behind center at Illinois.
Williams set the Illinois single-game rushing school record by a quarterback with 192 yards in his first career start at Rutgers last season in which the Illini won 23-20 on Nov. 14. The other side of that equation was Williams ended the afternoon just 7 of 18 passing for 104 yards. In the season-ending blowout loss at Penn State days after Lovie Smith was fired, Williams finished with 102 rushing yards on 15 carries but was just 8 of 18 passing.
Two seasons of dazzling folks in the run game but inconsistent results with the pass caused a conversation to take place between Williams and new Illini head coach Bret Bielema before the end of the spring practice season.
"It's kind of like I've got a God-given gift, my feet," Williams said. "I kind of just talked with Coach B and we came up with a decision to try it out. I tried it out, and I loved it."
Both Williams and Bielema claim the talk occurred in a mutual understanding between the two men. Essentially, the two-time Missouri Gatorade Player of the Year selection wasn't working out behind center and Bielema having his athleticism stand next to him on the sideline didn't make any logical sense.
"I would say that as a coach you recognize when a player wants to talk, right? I wouldn't say it was me coming to him or him coming to me, I could just see where his mind was," Bielema said on May 4. "When the opportunity came for us to sit down and talk together it wasn't like I summoned him in and said let's do this or anything like that. I think I just laid out what's in front of him and he's the one who eventually said, 'Coach, I want to do this.'"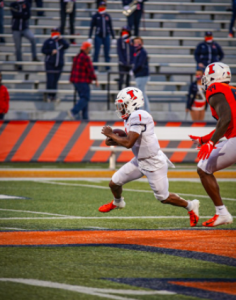 Therefore, not long after struggling to complete just 5 of 14 passes in the spring game on April 19, Williams officially made the move to slot receiver and is expected to compete with former walk-on Donny Navarro for a starting role there in the upcoming fall camp.
The receiver position isn't completely foreign to Williams as he was asked to showcase that skill set while at the 2019 Under Armour All-American Game in Orlando before arriving in Champaign. After seeing limited action in his freshman season and with the Illini in an injury emergency depth situation prior to the 2019 Redbox Bowl, Williams caught three passes for nine yards while starting at slot receiver in the 35-20 loss to California.
Williams said Thursday he did not "at all" contemplate entering the transfer portal this past winter following the coaching change from Smith to Bielema and the idea of finding out if he had any value elsewhere at quarterback didn't appeal to him.
"I'm here (and) I want to make the best of my decisions here," Williams said. "I didn't think of that at all. I was just thinking maybe it's time for me to try something new and see where it takes me. Transferring or quitting was never part of the equation."
Williams' goals for the upcoming 2021 season aren't necessarily tempered despite a major position change and the fact he's arguably one the least experienced players in the Illini receivers room that is expected to have 12 scholarship players in it. However, of those 12 scholarship wide receivers, only 23 receptions from the 2020 season return to Bielema's first Illini squad.
First thing for Williams is a bit of a body type change as new Illini football strength coach Tenarius "Tank" Wright attempts to transform the extra weight Williams was carrying in order to play quarterback into lean muscle mass to allow for a more quick twitch athlete to emerge at receiver.
"I want to be a leader of this team," Williams said. "I want to start. I want to make All-Big Ten. You name it, I want everything. I'm not switching just to be average."