The Illini football team lifted up Colton Rahn, resulting in hundreds of victories in the stands on Saturday afternoons
By Kirkland Chappell - IlliniGuys Football Contributor
August 22,2021
Playing college football is an extremely fun experience for anyone that truly loves the game itself. For those of us who had aspirations of one day being a college football player, we dreamed of packed houses, crazy fans, highlights and game winners.
The reality, however, is that there is much more to a football program than the glories we take in on game day.
The greatest football coach I ever had gave the exact same speech at the beginning of the very first practice of the year and every time we loaded the buses to head to a game. He would say "You represent yourself, your school, your families, and most importantly an entire community." Mostly, this was to make sure we were acting on our best behavior at all times when representing the program, but it was really a reminder of how much bigger the picture really is in the sport of football.
When it comes to Illinois, handling themselves off the field in a way that best represents our community is something that continually shines,  yet may not get the credit that's due.
For instance, star Illini punter Blake Hayes is one of the intriguing NFL prospects on this roster. The Aussie kicker decided he would use the new name, image, and likeness rules to do something beyond football and himself.  He is currently receiving donations and being a spokesman for a charitable organization "Connor's Run"  that helps benefit those suffering from brain cancer. He has already received hundreds of dollars towards this cause.
Let's also not forget the annual Lift For Life competition, where Illini football players go through a rigorous workouts to help raise money for those suffering from rare diseases.
These are just a scratch on the surface of strong and committed representation by the hometown college football team. A love for a community that has helped others for ages.
For Colton Rahn and his family, this love has been felt to the fullest extent.
12-year old Colton lives in Tuscola, a short 25-minute drive from the U of I campus.  In so many ways, this enthusiastic young man is your typical pre-teen; he enjoys playing flag football, youth basketball, and sports video games such as Madden and NBA 2k. Most of all, he loves fall Saturdays at his favorite place, Illinois' Memorial Stadium, where Colton has been the Illini's #1 fan since the day he was born.
Colton also lives with cerebral palsy, the permanent movement disorder that has affected him during his entire life. He suffered a stroke at a very young age which severely affected the left side of his brain. Doctors feared that Colton would never walk or talk or be able to eat on his own.
But Colton's parents say he has shown a resiliency from an early age as well.  "He had no idea other kids did not have to go to 4 therapy sessions a week."  says Katie Parker, Colton's mom. His parents go on to tell me he has had multiple surgeries over the years due to complications with his CP, and with multi-day a week therapy schedules things can get hectic if not exhausting.
The hard work has paid dividends for Colton and his entire family. Currently, Colton can not only walk, talk, and feed himself, but enjoys tailgating and attending as many Illinois football games as he can. He even scored his first touchdown this past season, thanks to his coach - and current Illini defensive back - Kendall Smith. "He drew up a great trick play for me and I scored!  It was awesome!" says Colton.
To see how Colton has always found strength and positivity in the face of struggle is amazing.  His fortitude is often strengthened by seeking advice from his good friend and all time favorite Illini football player, Mikey Dudek.
The former star wide receiver met Colton's family met during the Illinois fall football camp in 2016. They became friends and, to this day, Colton and Mikey still stay in close contact, finding common ground sharing stories of surgeries, pain, and strengthening.  On the flip side, both also tell stories of triumph and moving forward through times of struggle to overcome all odds and be strong and healthy again. Doing things that many thought were impossible. They are both able to be there for each other when times get tough.  "We still talk to this day", Colton says. This close friendship really helped the Rahns build a strong connection to the Illinois football program.
That, however, would only be the beginning of the impact this college football team has made on such a powerful young soul.
During basketball season in 2019, Colton had to undergo emergency eye surgery to prevent his eye from "floating", which is common among children with cerebral palsy. But that didn't stop Colton. He was determined to recover from that four-hour surgical procedure to play in his scheduled youth basketball game four days later.  And, of course, he did.
Before the game, Colton's dad Jason received a message from then-Illini head football coach Lovie Smith that a few of the players wanted to stop by for the game for encouragement, after hearing that Colton had such a tough week.  To the surprise of Colton and his entire family, "a few players" turned into nearly the entire Illinois football team who made the drive down to Tuscola!  The Illini football players packed the gym to watch their "little brother" Colton put on a show, and a show they got!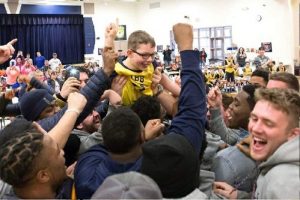 With just seconds left in the game, Colton buried a mid range jumper to win it for his team, in front of a group of friends he will never forget, on a special night just as unforgettable. When the final buzzer hit zero, teammates, fans, and the Illinois football team stormed the court and put the star of the night on their shoulders.
Word of Colton's big shot and his relationship with the team spread quickly through Illini nation.  Many tweeting the hashtag #coltoncourage and it became a symbol of strength and pride not only for Colton and his parents, but for others dealing with complications from cerebral palsy.
Colton says he's enjoyed the popularity that followed, often publicly recognized by Illinois fans who are intrigued with his story. "They come to me and they tell me I inspire them", Colton says. Jason Rahn says he has seen nothing but respect and love from those to approach Colton.
Colton and his parents firmly believe, had it not been for the connection between him and the Illinois football program, he would not be the same kid.  He has been given a platform to help inspire others with his story and courage.
Colton told me that he and his father Jason have started a small campaign on social media called Illini Tickets For Kids, designed to allow less fortunate children get tickets to Illini football games. The idea started when Colton noticed people leaving games early or not showing up at all to Memorial Stadium. This frustrated Colton, because he knew so many people out there would be so grateful to have those tickets. So he started an effort that has, to date, helped put more than 725 children in seats at Illini football games through donations on social media. Colton's service receives tickets from random people who decide they are not able to attend games and the tickets are donated to children who would do anything to be there.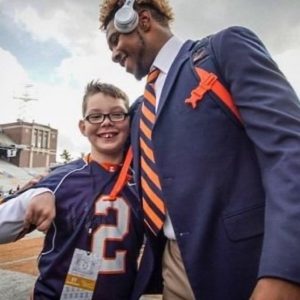 What a chain of goodwill!  Starting with the Illini program consisting of kind-hearted student-athletes wanting to make a positive community impact, Colton was inspired to pass goodwill onto others as well, which will then move others in the community to pass it forward...all to make central Illinois a wonderful and loving place to live. It truly is amazing what good leaders can do.
When it comes to the game of football, making an impact is something young football players dream of, and in many different ways, that dream is being realized in our community. While being stars off the field as well, these young players have impacted this child and his community in so many ways. From being there for the big shot, to helping to coach the Tuscola youth flag football organization, and just being great role models for young people in our community, the off-the-field wins have been immense for this Fighting Illini program.
So remember, the next time you watch a football game at Memorial Stadium, take this story to heart. There is a lot more to these talented young athletes than shoulder pads and helmets. Heart is where the home is, and the impact they make off the field is a true testament to the character of this program as a whole.
We as fans, writers, and local residents can be more that proud of what this program has meant to this community on and - more importantly - off the field.
For a kid like Colton, it's unforgettable.