2023 Intro - Ty Pence
As the Illini navigate the transfer portal and finalize 2021 and 2022 recruiting, they are beginning to branch out in the 2023 class. One player that has caught their eye on video is 6'6 wing Ty Pence from St. Joseph Ogden. The local product had a fantastic high school season and is now showing his talents on the NY2LA circuit with his Mid-Pro Academy 16U squad and the results have been excellent. They went 3-0 the first weekend, including a win over Brad Beal Elite 16U squad from the Nike EYBL circuit. All of that was without 6'9 PF Owen Freeman, a 2023 big man with an Illini offer.
"It's been great to be out here," Pence said. "We've had a few ups and downs, but we stuck together and we came out with 3 wins."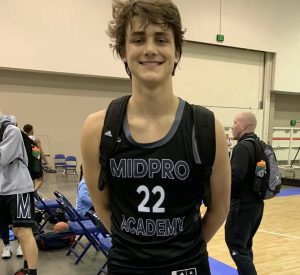 Of course, the knock on every small school player is that they have to do it against elite competition. Pence knows that it is different playing against the athletes he sees in high school and the athletes he saw from the EYBL and UAA circuits in his first weekend, and he stepped up his game.
"It's really important (to see this level of play)", Pence said. "The development for college, this AAU is going to be very important for me to be able to grow and see what college is going to be like in the future."
On Friday in Pleasant Prairie, Pence was dominant, draining 3's, dunking on drives and scoring at all 3 levels. On Saturday, he had a strong start, but then had to battle through before making two winning plays down the stretch against the BBE squad.
"My coach and a few of my teammates kept my head up throughout the game," he said. "I made a few earlier and then I went cold, but they just helped me stay in the game and helped us get the win."
Pence went through a stretch in this game where he was attempting to play over the BBE players, but what makes him special is ability to learn and adjust on the fly. As the game progressed, he learned to play off of two feet, scored inside and then hit fellow 2023 wing Ethan Kizer for a pair of wide open 3s down the t=stretch to seal the win. The growth occurred in game.
Pence says he needs to continue to get stronger as he navigates the process and will continue to work on his ball handling and playing more smoothly.
It's still early in the process for Pence, as college coaches have been unable to get out and see these kids for over a year now. It has made the offer process much slower than in previous years, but Pence has some early interest.
"I've got an offer from Western Illinois, and then I have been talking to South Dakota State, Xavier and Purdue."
Illinois reached out after his strong performance in the first weekend and they like what they have seen from the local standout. Although they have not offered yet, they are now very interested in seeing the 2023 star up close.
"That would be a dream," Pence said of a potential Illini offer. "That's my home school and to be able to have that opportunity, I just give all glory to God and thank him for everything."
Pence is one to watch in 2023 as these young players begin to see their recruitments expand and open up.