By Kedric Prince – IlliniGuys.com Director of Recruiting
April 9, 2021
The Illini basketball staff received good news this week when 2022 shooting guard A.J. Storr called to commit to play for Illinois.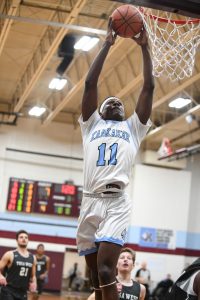 Originally from Kankakee, Illinois, 6-foot-5, 200-pound Storr played for Compass Prep (AZ) this past season.
Storr is an athletic swing guard who can get to the rim with ease and who has a smooth shooting stroke.
He is a high school teammate of highly sought-after point guard TyTy Washington, one of the best point guard prospects in the class of 2021.  Although he was a key contributor to one of the best high school basketball programs in the country, his performance at Compass Prep was largely overshadowed by his teammate Washington.
Until now.
He opened eyes by knocking down jumpers from all over the court and attacking the rim with explosiveness during the recently concluded GEICO High School Basketball Nationals Tournament. Five of the top 10 and nine of the top 25 teams in the country competed in the tournament with many of the most sought-after prep recruits going against each other.
As Brad Sturdy and Brandon Wildman discussed in a recent episode of the "Sturdy for 30" podcast, Storr was about to step out of TyTy Washington's shadow and emerge as a national prospect.
The Illinois staff didn't waste any time in closing the deal on Storr – before other elite programs came knocking.
I had an opportunity to speak with this hard-working, talented, but humble young man earlier this week.
Q:  Why Illinois?
A:  The coaches, and especially Coach Coleman, were always honest with me about everything. They saw my talent early before other schools did, and I can appreciate that.
Q:  How many offers did you have?
A:  15, but I think my list was going to grow bigger this summer. I think the Illinois coaches saw that coming, too.
Q:  What's your plan for college? Are you going to be a 2021 or 2022?
A:  That's still to be decided; there's a lot that may play a big role in my decision.
Q:  A source told me that you grew up an Illini fan, is there any truth to that?
A:  I sure did; that is definitely true. I get to play for my home state university. It can't get any better than that.
Q:  When you watched the Illini play, what did you like?
A:  I loved how they spaced the floor. They really got up and down the court. They had the tempo you need to be successful in college basketball, which is why they won games this year.
Q:  So tell us, what are the chances of you and TyTy playing together?
A:  We talked about it, for sure, it would be awesome to play with one of my favorite players and one of the best in the country.
Please follow me on Twitter @KedPrince4.
PrinceKedric@yahoo.com